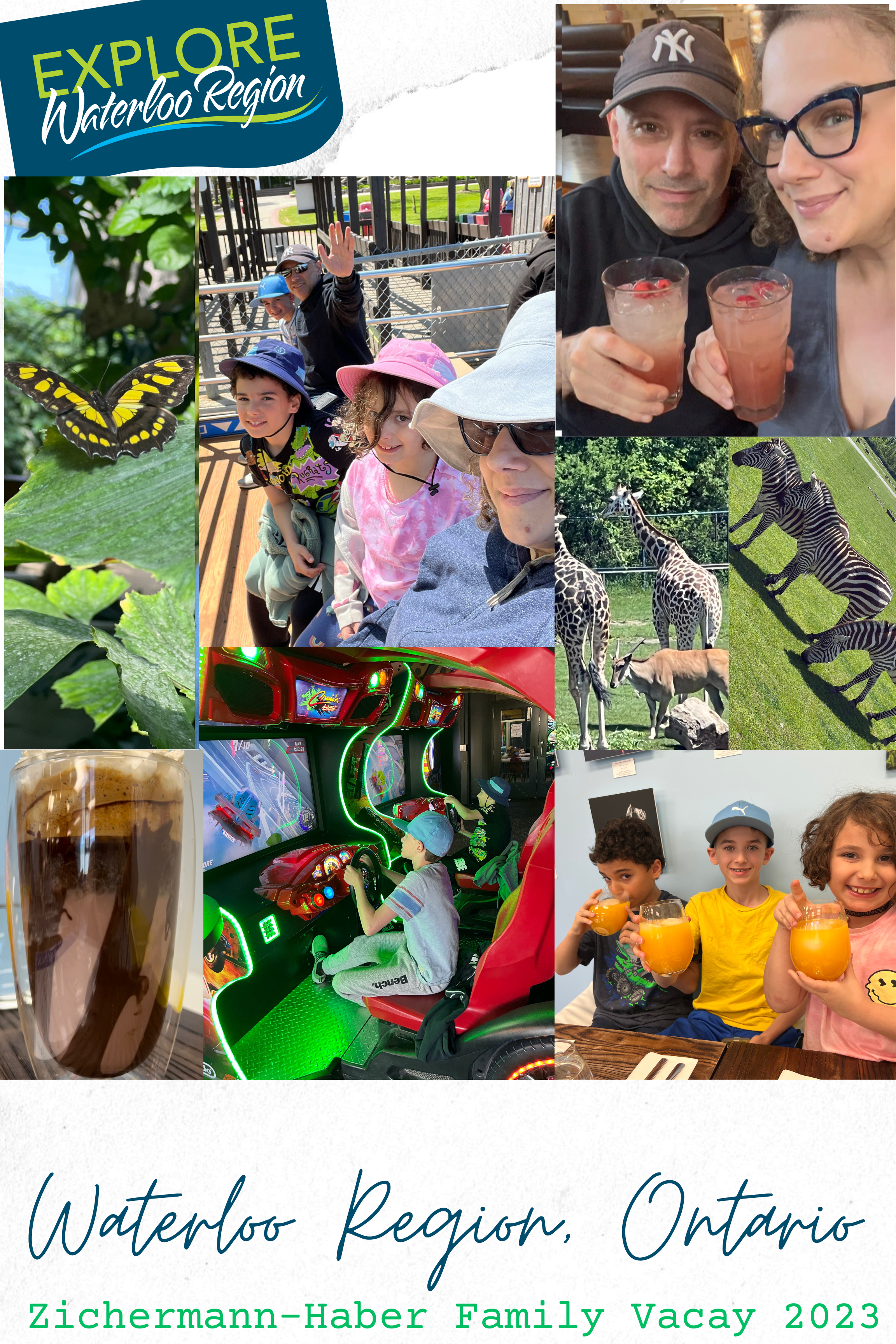 Hi Moms,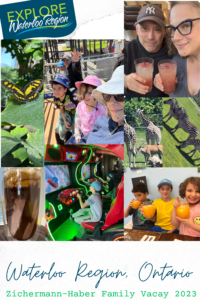 We recently returned from an incredible overnight stay in Cambridge, Ontario part of the Attractions Ontario family. You'll want to bookmark this for your next Ontario MUST VISIT getaway.
This trip was a surprise for the kids from the beginning. It was Zach's birthday (as y'all know) and this kid absolutely LOVES surprises. He's obsessed with butterflies (more on that Waterloo region connection in a bit). So we didn't tell him or them anything.
In fact, before we even left Toronto for Waterloo we tricked the kids to help us make their lunches for school that day. Just as they were about to start cutting those veggies, we dropped the secret that we're going away and the screaming that ensued (I'm so sorry to all my very sweet neighbours ;-)).
We quickly packed our bags (remember I only told them the morning of, in fact, only 1 hour before departure) so that was fun!!! 😉
We started our journey (which was a little over an hour) from Toronto and our first stop upon arrival was African Lion Safari.
I have never been, so when I first heard it was going to be part of our itinerary, I was so psyched. We were greeted by super friendly staff and decided to take the bus for the safari tour. I wasn't opposed to taking my car through it, I just wanted the ease and comfort of having someone else drive so that I could fully immerse myself in the experience (and I'm truly so glad that I did it that way).
Pre-safari tour at African Lion Safari
The kids were also so happy to be able to move around and see everything from both sides of the bus. Our tour guide/driver was so knowledgable about the entire African Lion Safari experience that she made it so much fun and educational for all of us.
Zoë commented that she felt like she was on the best class trip she's ever been on. So cute, right?! 😉
We learned SO MUCH!!!!
African Lion Safari is spread out over 750 acres! The animals have so much space to roam, interact eat and sleep. It's truly a remarkable space.
We saw so many animals and watched as they played, walked in front of our bus ;))) and slept!!
I loved catching the animals just chill!!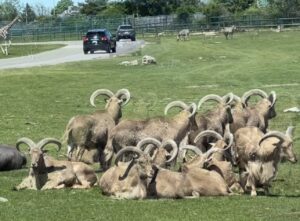 One of our favourite parts of the safari was when we saw the rhinoceros peeing. It's pretty amazing to see animals do "normal" things like eat, sleep, poop and repeat. 😉
The kids absolutely loved watching the giraffes.
I had no idea that Giraffes only sleep 30 minutes a day!!! I had a good chuckle about that, as I know many of us moms can relate to the lack of sleep we take on when having kids! 😉
Our bus driver also told us that the giraffe population has declined by almost half since 1998 with only 80,000 remaining in the wild! That's why I so appreciate the conservation efforts and initiatives practiced by African Lion Safari to preserve the giraffe species (and so many other animals).
They truly are recognized worldwide for these conservation initiatives and breeding efforts: think the cheetah, white rhino, giraffe, barn owl + so much more.
After visiting the reserves, we headed over to take the African Queen Boat Cruise!!
The African Boat Cruise begins..
where we toured Water Safari Lake and saw exotic primates including the Ring-tailed lemur and Black-handed Spider monkeys!!
Conservation efforts are so important, thanks African Lion Safari!!!
Zoë was a bit apprehensive to get on the boat but once the tour was over she said, "mommy, I want to go again and again." I thought that was a true testament to our extended experience here at African Lion Safari. There is so much to see and do past the reserves.
The kids ran to the children's playground and they had so much fun there too! It was hard getting them to leave this area. They have a climbing section, slides and so much more!!
During this trip, we didn't get a chance to visit the waterpark, known as Misumu Bay Wetplay but this definitely is a must-return visit. The kids yelled in excitement when they saw that fish tipping bucket (you know the huge bucket that is suspended in the air and is filled with water and at certain timed moments, tips over and spills onto the kids below?! ;)) The screams in happiness happen right at that moment. You really have to bring your kids here!!
We ended our visit on the Nature Boy Scenic Railway and it was such a beautiful train tour where we also got to see some animals. This was a PERFECT culmination to our 3+ hour experience at African Lion Safari. You could spend a full day at this park, no joke!!
African Lion Safari is like Noah's Ark
You gotta come visit, mamas!! Your kids will love it and trust me, the rest of the family will too!!!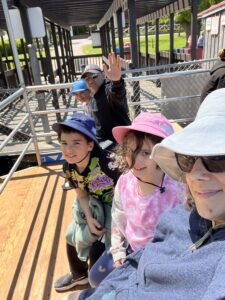 They also have a Wake up the Wild VIP Experience that sounds incredible. This program allows you access to the park before it opens to the public,  you get to see a pride of lions at their most active time of day, you get up and close and personal with animals and so many opportunities including the ability to hand feed giraffe. #goals!! This is an experience I definitely want to try next time we visit!!! Just wow!!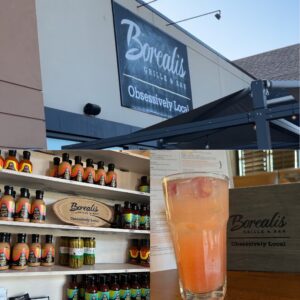 Our next stop was dinner at Borealis Grille & Bar in Kitchener.
I was immediately impressed with how they're a carbon neutral restaurant and that 80% of everything they source is local (and obsessively local at that!!) It makes you feel good about what you eat there!!
I loved the options for kids meals think: BBQ chicken, kids nachos, chicken fingers + so much more!! My kids chose the BBQ chicken and chicken fingers!!
Our favourite dishes at Borealis
The buttermilk fried Ontario chicken and the trout were our two favourite dishes and they truly were spectacular. The chicken skin was perfectly crisp, the chicken was moist and so flavourful. The trout was also moist and so delicious and it melted in my mouth. We also really enjoyed their kale caesar salad, wow! The lettuce was so fresh!!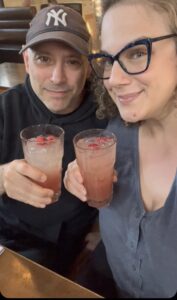 The housemade non alcoholic kombucha spritz was fantastic!! I highly recommend it as well!!
S'mores for dessert was the best way to end off this delicious meal.
We then headed over to Kingpin in Cambridge for some arcade and indoor playground fun!! They also have axe throwing, bowling lanes and a restaurant too!!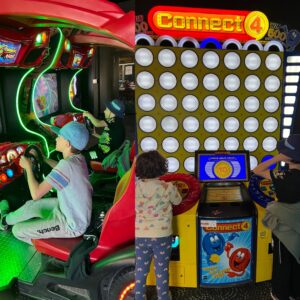 The kids immediately ran over to the arcade and car games (yes, Zoë loves to compete against her brothers). They really have a ton of games to play and a HUGE prize area for ticket redemption. You can literally find so many great toys after playing!!
My family loves playing air hockey so we spent a bunch of time over there and it can get kinda intense. 😉 I love playing it too and then always head over to the bowling games including lane master!! That is my favourite game and I won some and lost some. 😉 😉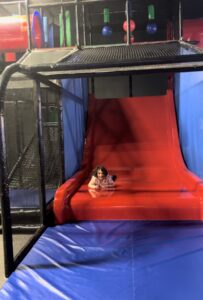 Then they spent so much time in the indoor playground. They were chasing each other and hiding throughout the structures!! You have to bring your kids here!!!!! We stayed till closing!!
Our room at the Homewood Suites by Hilton in Cambridge, Waterloo
We then headed over to our hotel for the night at Homewood Suites by Hilton in Cambridge, Waterloo. The units were spacious and had a full kitchen too!! A great place to say for one night or many nights. It's also conveniently located as well.
Huge shoutout to the designer of the units for including shower amenities such as: shower gel, shampoo and conditioner. No need to bring from home, when it's right in the shower for you.
The beds were super comfortable and we settled in with a movie. What a great end to the first day in Waterloo!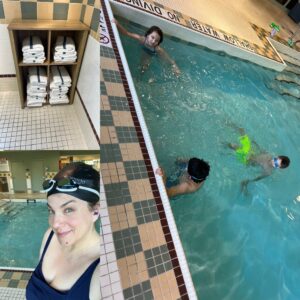 Day 2 began with a swim in their pool. I love how quiet and quaint it was! We splashed, played marco polo and did some swimming. No need to bring your towels, they provide it next to the pool. They also have a gym but we didn't hit it up this time around.
Showered, changed and packed up and then checked out of the hotel and headed for breakfast to Queen's Family Restaurant (which was highly recommended by some locals). Busy spot and the food was great! I had Eggs Benedict on rye bread that came with potatoes, beans and fruit too! The potatoes were soooo good. I mean crispy, crunchy and delicious. It was a complete meal. The kids loved their chocolate chip pancakes too!
The kids were so happy to arrive at the Cambridge Butterfly Conservatory
After breakfast, we headed over to the Cambridge Butterfly Conservatory. Y'all know that Zach is obsessed and I mean really obsessed with butterflies. This part of the trip was a definite highlight for him. He had zero clue we were going and when we arrived he screamed sooo loud.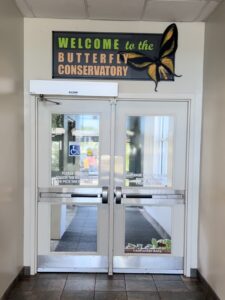 Cambridge Butterfly Conservatory is a 25,000 square foot facility!! This includes a 10,800 sure foot indoor tropical garden with thousands of free flying butterflies and we saw so many!!!
When you enter the conservatory there's signage that says please do not touch the butterflies or pick the flowers and that's for good reason! They're committed to conservation, education and research. Also make sure you're dressed in layers as the conservatory is very warm (to recreate the tropical temps for the butterflies). The conservatory temperature ranges from 24 degrees – 28 degrees with high humidity (and trust me, you feel it!)
I will tell you that the butterflies landed on the boys so many times. Check this out: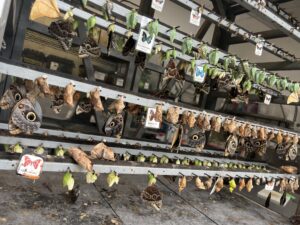 What was so cool about the tropical garden was truly witnessing the butterflies emerge from their chrysalis and try to fly. We saw two in particular and it was an educational moment for the kids and us. It's like when you first give birth and watch your baby lift their head, roll over and take their first step. Big moments and it was really interesting to see it.
We learned so many important facts about butterflies. Did you know that most butterflies only live for a few weeks? So crazy, right?! Did you also know that butterflies taste with their feet? Isn't nature so spectacular!!!!
The conservatory also has a large variety of tropical plants, birds and other animals. We visited Rosie the Tarantula and I was very close to bringing her home to put under Kevin's pillow. 😉 That's what good wives do!! 🙂 They also have a very cute restaurant on the premises called Chrysalis Cafe that has everything from pizza to wraps and sandwiches ++.
We made some beautiful memories here at Cambridge Butterfly Conservatory.
We also worked up an appetite and headed over to Café du Monde Crêperie and OMG this was one unforgettable experience. It's run by a mother – daughter team and you can tell all the customers love them (and for good reason). Our whole meal from beginning to end was superb.
Starting off with a decadent iced mocha beverage that was equal parts delicious and so satisfying. The kids had fresh squeezed orange juice that tasted like they took the oranges straight off the trees.
Everything we ate was homemade and the taste truly showed the excellence. From the amazing pizzas to the crepes both savoury and sweet, we were in awe of the experience we had.
Even the salads were a big hit. The thought process they put into the dressing for their caesar salad was true perfection. I mean cream and garlic and everything nice!!
We had to save room to try their desserts and boy was it something we talked about for the days after our trip, OMG!!! They make homemade ice cream and we had their chocolate chunk, we also had their chocolate chip cookies, butter tarts and that crepe!! I'm craving it now as I write this! 😉 Make sure to wear comfortable loose clothing when you go, you're gonna need it! Truly a fantastic way to end off our trip to the Waterloo region and we will most certainly be back!!
Mamas, make sure you bookmark this post and plan an upcoming trip to truly explore Waterloo. Your whole family will love it!! Also, Attractions Ontario has awesome coupons to African Lion Safari too!! Check it out HERE!
So now I want to know: What spot(s) from our trip stood out to you? Where would you want to visit?
xoxo
SZ
Disclaimer: Compensation and the experience was provided for this review. All comments, opinions, videos and photos are strictly mine.