Hi MOMS,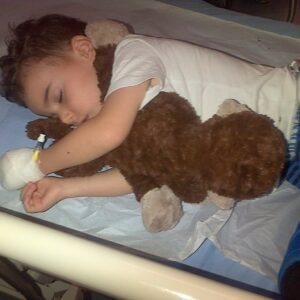 If you haven't heard, today is #GivingTuesday. Essentially that means giving back somehow to your community. Something very close to my heart is North York General Hospital. They saved my son's life back in 2016.
Benny was always a super happy boy and mischievous to say the least. One morning back in November of 2016, he woke up unable to fully walk on his feet. We honestly thought he was joking (that's in his nature to be silly) so we sent him off to school. A few hours later we received a call from his teachers that he isn't able to walk at all and is crying hysterically. Fast forwarded, we ended up at North York General Hospital and after a barrage of tests they confirmed that he had Group A Strep. While I've never heard of this disease we became quickly aware as his condition deteriorated. They performed emergency surgery and Benny spent the next 8 nights in hospital followed by a transfer to Sick Kids Hospital for a PICC line insertion. This was to ensure that he would receive the antibiotics at home, where he spent an additional 31 days recuperating and learning how to fully walk again.
We learned some very valuable lessons during that period:
Count your blessings

Pray

Rely on the generosity and support of friends, family and even strangers

Trust your kids. If they feel it, it's real.

North York General Hospital

is an absolute gift to our community
Today and everyday, I urge you to donate to the North York General Foundation. A very noble and important cause so that families like mine can receive the best possible care.
Thanks North York General Hospital for everything you do and continue to provide.
#GivingTuesday
xo
SZ