We recently returned  from an overnight experience in Oshawa, Ontario and I have to tell you, I was really impressed. From the amount of fun (and family friendly) activities to interesting sights to see and great eats, Oshawa really has it all! 
I had never been to Oshawa before so I was genuinely curious what kind of trip we would have and I was truly blown away by the overall experience.
We started off our trip by visiting the Canadian Automotive Museum. I loved the rustic look of the museum and how when you first walk in, you're immediately greeted with so much interesting car history!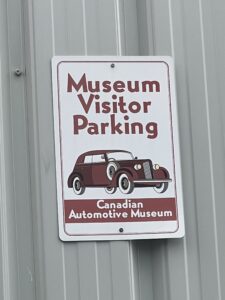 We had a wonderful tour from Gareth and saw some really cool cars. Watch this video for an explanation of why they treat the cars like museum objects and how they practice conservation by preventing further damage from happening to the cars.
Gareth explains how the museum operates
There were so many classic cars and each with its own distinctive history. I was immediately drawn to the 1931 Alfa Romeo (it's the colour and design for me ;)).
The kids loved seeing the car from CARS while I shrieked when I saw the DeLorean from Back to the Future. That was definitely a movie staple from my childhood.
We spent time learning about the Rolls Royce Phantom 3, such an interesting car. See the video for more of its history:
As you can see from the video above, Gareth provided some cool facts about the design of the Rolls Royce Phantom 3, including: the liquor cabinet, ashtray, fold out seats and engine size were sooooo unique. My kids got really excited and they still talk about this particular car, asking us: when are we getting one? 😉
Overall, the Canadian Automotive Museum is a fantastic place to visit for the whole family.  I highly recommend you bookmark this spot and include it on your next trip to Oshawa!
Our second stop was a mere 8 minutes away, where we arrived at the Ontario Regiment Museum.
We had a really special tour of the museum that was historically significant and equally cool for the kids. We were shown medals won, important documents that came out of major events and photographs of what our soilders had to endure.
All this in addition to seeing the military vehicles and the kids getting to climb into a M998 humvee. They pretended they were soldiers and were driving into battle! It was a really cool sight to see. 
New recruits reporting for duty
We loved the part of the tour where we saw more about what soldiers eat in battle. The kids commented that their food is really different from ours. Items are sealed and vacuum packed to be able to withstand all the elements. We discovered that soldiers are accustomed to eating this way.
Here's a sample of the kind of food that soldiers would eat (and continue to eat) in battle:

The kids got to play dress up and that was a great way to end our tour.
They had a ton of questions about the gear and especially about the weapons the soldiers had. 😉 We were told to return for Tank Saturday's where people of all ages get to see the vintage equipment live! 
We worked up an appetite after all these awesome museums so we headed straight for Teddy's Restaurant & Deli. By the sheer size of the lineup outside on this cold, wintery night, we knew this was THE place to eat in Oshawa (p.s. it was that good!!)
We settled into a booth and were greeted by super friendly staff and ordered a bunch of dishes off the expansive menu.
We first tried the chicken noodle soup and the kids devoured it. It had that classic chicken soup taste but with a twist, there were pieces of broccoli inside. If you know my kids, they love most vegetables except for broccoli. This soup was THAT GOOD that they ate it knowing full well there was broccoli inside. This is a win win, right mamas?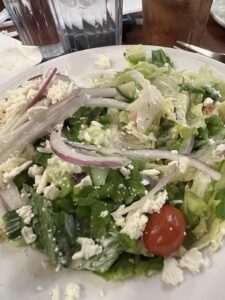 Y'all know I love a great salad (I typically have one a night with my dinner) and I decided to try out their greek. I was soooo impressed by the perfect seasoning of the feta, oils, spices and vegetables. This was a salad for the books!!
The kids ordered typical dishes: think grilled cheese, fries, burgers and more. They enjoyed their meals and had ice cream after as well.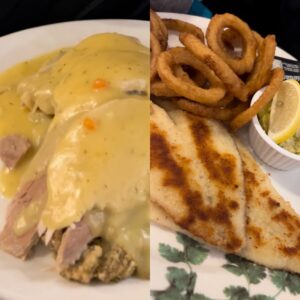 We loved the turkey dinner and filet of sole. Each one deserves commentary here:
The turkey was moist and the stuffing was lovely. Kevin can be pretty picky when it comes to turkey and commented when we left that we should've ordered one to go! 😉 The filet of sole was so crisp and the breading was just right. I find that sometimes fish dishes can be over salted but this had the perfect mix of seasoning. You could taste the freshness of the fish.
Coconut Cream Pie for the win at Teddy's
Dessert deserves a medal here at Teddy's. They're known for their pies – coconut cream and strawberry. I immediately gravitated towards the coconut cream pie because that's a fav of mine. I was so blown away by the crispness of the pie shell, the creamy and delectable taste of the pie and it had the perfect balance of coconut. You will most certainly fall in love with their coconut cream pie. It was so good that we will definitely be back for that! You must include Teddy's Restaurant & Deli in your travels this winter break and beyond.
After dinner, we headed over to our home for the night the Holiday Inn Express & Suites Oshawa.
Check in was super simple and our room (on the 3rd floor) was so bright and large. There was a kitchenette as well!
You know when travelling with a bigger family, space matters! We were pleasantly surprised by the sheer comfort of the beds.
The bathroom had extra large plush towels which I was really glad to see.
Most hotel towels I feel really don't fit all bodies and these truly did. They made our showering experience great! Also I wanted to mention they had built in Dove body wash, shampoo and conditioner which was a big hit! You know sometimes it's the little things that make us travellers happy.
We let the kids stay up late watching movies and then we all settled in for a zzzzzz's.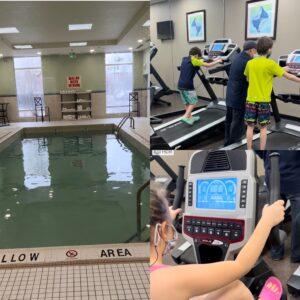 The next morning we got our swimsuits on and headed to their pool but were not able to swim because they were cleaning it and then it was closed for a private lesson. Instead, we went to the gym and the kids had a bit of a workout (which was great!).
Breakfast at the Holiday Inn Oshawa
All this moving made us work up an appetite and we had their breakfast which included: cereals, granola, eggs, sausage, bacon and the coolest 1 min pancake machine.
You literally press a button and the machine does the work for you! This was so cool. The kids loved it. After breakfast, we packed up and checked out of the hotel. Once again, check out was a breeze. Thanks for the hospitality, Holiday Inn Express & Suites Oshawa. Include this hotel in your next visit and stay to Oshawa!
We then headed over to NEBs Fun World and the kids went crazy!!!
This place is gigantic. They have rows and rows of 5 and 10 pin bowling. They have multiple arcade sections, a cafe and even rides!!!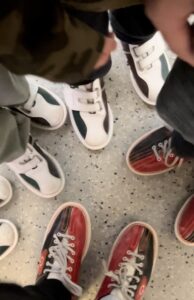 We started off by playing some good ol' fashioned 5 pin bowling. The kids and Kevin thought they were going to win. Little did they know, their mom/wife was a bowling master. Yes, you heard it here first, I won! Forget letting the kids win, it's way more fun when I do! 😉
After bowling we headed to the arcades and played some fun games. The kids won a whole bunch of tickets and were able to exchange those for prizes! So much fun!!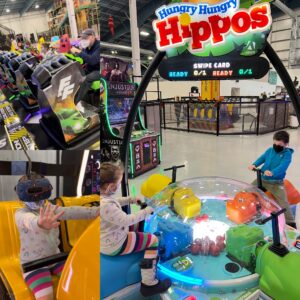 Overall, we all had a wonderful time playing and will definitely return for a fun day at NEB's Fun World. I highly suggest you bring your entire family here for an experience they'll never forget!!
We then made a short stop to Oshawa Centre for a bit of shopping and a snack for our way home. Such a great trip was had and you can bet on it that we're coming back!
So now I want to know: What spot(s) from our trip stood out to you? Where would you want to visit?
⬇️⬇️⬇️
xoxo
SZ
Disclaimer: Compensation and the experience was provided for this review. All comments, opinions, videos and photos are strictly mine.