Hi MOMS,
This past week we went to Medieval Times Dinner & Tournament and it was an absolute blast!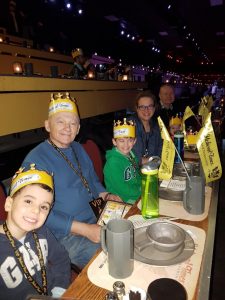 I loved the show (and the kids went crazy!!) they were cheering so loudly (we were the BLUE team) that I think that's why our section WON! 😉
Not only was the show so fun and exciting but the food was equally yummy.
On the menu:
Tomato soup + garlic bread;
Half chicken (such a HUGE portion);
Baked potato + cob of corn (great butter + salt combo);
Lemon cake for dessert + non-alcoholic drinks (pop or juice/coffee or tea).
It was a ton of food and you wouldn't believe it but the kids get the same portion and their price is way cheaper.
They also have vegetarian, kosher and halal options.
I really appreciate the thought taken at curating a menu that's well suited for everyone.
From beginning to end, we loved it!
Buy your tickets HERE!
xo
SZ