Hi MOMS,
Let me start off by saying, it's been next to impossible to have ANY time alone during COVID, as the kids have been with us 24/7. As a result, we jumped at the chance (after 5+ months of being cooped up) to have a full-blown date day and night in our city.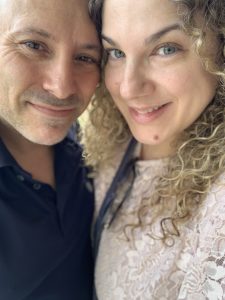 What follows is my comprehensive review of our wonderful day and night experience courtesy of our friends at Attractions Ontario!
We started by making our way down to the historic distillery district for a super fun Segway adventure with Go Tours Canada. We were already BIG fans of Go Tours Canada after having been on their Toronto Lightfest tour at the beginning of the year!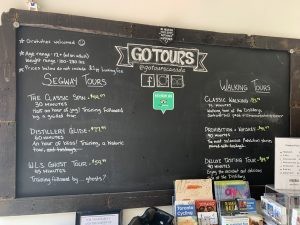 Go Tours Canada is taking ALL the necessary COVID precautions and rest assured they place your safety as their number one priority! Here's a direct link to what they're doing during their tours: https://www.gotourscanada.com/toronto-social-distancing-tours/
I can CONFIRM all of the above measures were executed and we felt safe and secure. When you first walk into the office (with your masks on) they ask you to immediately sanitize your hands and fill in their information sheet. I know so many of you had questions for me in advance of our experience and I hope you feel a sense of calm now after watching our stories, that you too can enjoy the Segway freely without any worry.
Our first step was to get properly fitted for helmets. I chose a pink one because I needed to match! 😉 I put a hairnet on as well (extra precaution). All the helmets and gear are properly sanitized prior to each tour.
The tour began with our wonderful guide, Nicole, who introduced us to the Segway by providing an overview of all the safety features. She demonstrated proper usage of the Segway and showed us step-by-step of how to get on and off, steer, stop, standing position and overall ride procedures.
Nicole shows us how it's done!
Kevin was first up and Nicole took him for a brief run through, see here:
He took to the Segway like a champ! It was super easy for him!!
I, on the other hand, am not sporty by any means and felt uneasy when I first got on. It took me a little bit to get comfortable with the mechanics and how to properly maneouvere my body.
After a bit more time, I was finally feeling free.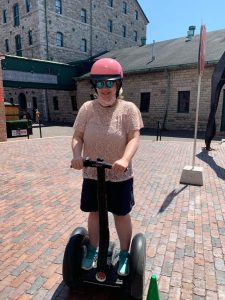 I was moving through those cobblestone streets like a BMX rider, no joke! 😉
It really is that EASY to ride and with the amazing guidance from Nicole, it was a wonderful experience!
Our very own obstacle course, thanks Nicole!
Sometimes all it takes is to believe in yourself and know you can do it, for it to actually happen! I know that sounds super cheesy, but it's true!
I truly felt FREE on the Segway and the fresh air coupled with the closeness we felt made it an experience we will never forget.
We both commented that we felt more connected after this experience then we have in the past 5 months. So I'm telling you, GO FOR IT!
You'll not only have an amazing experience but it'll be something you can talk about and reminisce over.
Can I just says also, it was super romantic. Just the two of us experiencing the city like we've never done before. Riding at times in unison, giving each other a smile and a glance over.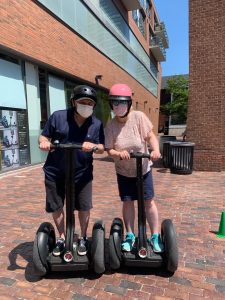 We actually want to get a Segway for home usage now, that's how much fun we had. Also a great way to get in some exercise too!
Thanks again to the wonderful team at Go Tours Canada, you ROCK!
After our Segway experience we headed on a nice walk towards the St. Lawrence Market (which unfortunately, closed early) but nonetheless, it was a a great chance for us to further re-connect.
The city is getting back to it's fast paced groove. We had ice cream, coffee, snacks and laughed. The sun was shining and truthfully, we were smiling ear to ear. We both commented that this was the first time in over 5 months that we felt this close to each other.
We needed this.
We then headed to dinner at Pure Spirits Oyster House & Grill and it was so nice being able to further our distillery experience with a delicious meal.
Our friends, Carly and Joe, joined us and it made our date night even more fun!!!
We feasted on some very yummy appetizers including: oysters (for Carly), shrimp (for Kevin) and caesar salad (Joe and I ordered this).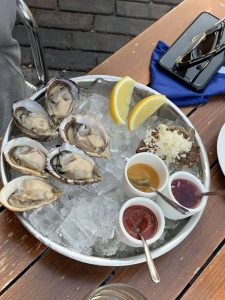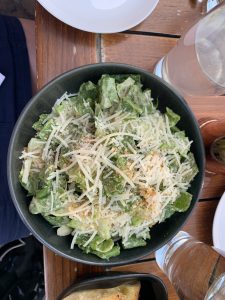 For our mains we had: grilled half chicken with roasted root vegetables and rainbow trout. I ended up sending back the rainbow trout because it was too salty and ordered the seared steak sandwich which was amazing!
To be honest, the dessert was the highlight for us with a fantastic creme brûlée, it's a must order!!! It was so good that Kev went in to try it for a second time before I even got a chance to take a picture to show you how it looked!
We then said goodbye to our friends and headed to the final portion of our evening with The Haunted Walk.
This guided learning experience from the amazing, Jack, taught us that spirits and ghosts used to (and perhaps still do) roam the streets and buildings within the distillery district. This tour was fascinating.
Most interesting points that stood out for me:
The distillery district was the largest distillery in the world (at one point)

They made the largest amount of whiskey, beer and antifreeze

Immigrant children were put to work in the distillery district (no labour laws then) and were employed to test the liquor (it would either kill them in a variety of ways or they would go blind). So sad indeed!

Balzac's, the coffee house, had a female ghost (yay, girl power! ;))

The stone distillery was the oldest building on the property, built in 1860 and it remains standing after the largest fire in the area's history.
To this day, the distillery is haunted by several apparitions. 
This is a MUST experience tour! Just ask Kevin who ended up sleeping with one eye open and had to have his phone light on the entire night we got home.
Here are some of the sights of the amazing distillery district that we saw on our tours:
I hope my experience makes you want your own fun filled day/night date in our fine city!! Check out Go Tours Canada and The Haunted Walk for experiences I promise, you'll never forget.
xo
SZ
Disclaimer: I received compensation and experiences for this review. All comments, opinions, videos and photos are strictly mine.