Hi MOMS,
We recently returned from a fantastic winter stay at Bayview Wildwood Resort, a mere 90 minutes away from our home in Toronto.
This is our second time visiting the resort and it was such an incredible experience. I think most people don't think of getting away to a winter resort but I'm now a BIG believer.
I want to tell you why we loved our stay (so that you can come and experience the fun for yourself!)
We love Bayview Wildwood Resort for the following reasons:
– Accommodations –
We were in the BLUE cottage (as my kids like to refer to it) #45 and it truly was beautiful. Recently renovated, it boasts 3 bedrooms (which was perfect for my family of 5) that included: 1 King Bed, 2 Queen Beds, 2 washrooms, a kitchenette and living room area. They truthfully thought of everything. Our cottage overlooked the beautiful Sparrow Lake and it felt like we were transformed to a majestic winter wonderland. Waking up every morning and seeing the views of the sun glistening on the snow covered lake was beautiful and tranquil.
– Food –
Breakfast, lunch and dinner was in Echo's Dining Hall. Similar as our cottage, we had views of the lake which was beautiful. Breakfast and lunch were generally via buffet and dinner was a la carte. There was a special meal for Christmas Eve and Christmas Day.
We loved the Christmas Day brunch as it had a large variety of options including: a made-to-order omelette station and the most delicious waffles we've had! The kids loved it! 
That's also the beauty of the food at Bayview Wildwood Resort, it's both adult focused and kid friendly. So many options to choose from and trust me, we all put on the pounds after our visit! 😉
– Activities –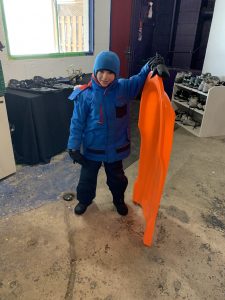 During the winter, they have a wide variety of outdoor activities including: Snowshoeing, Tobogganing and other activities such as cross-country skiing, ice fishing and skating (the skating wasn't operational yet because of the instability of the weather). What's really cool about Bayview Wildwood Resort is they offer all the equipment on site. You don't need to spend extra $$ on renting anything, it's all included in your stay!
– Kids Activities –
We went to the Teddy Bear Workshop and for $25 the kids got to stuff a bear of their choosing.
The kids also experienced a cooking decorating class that brought out their creativity:
Zach decorates a cookie for the staff!!
They also have daily entertainment for kids and adults. We put the Zach, Benny and Zoë into kids club which was a combination of arts and crafts, dancing and interactive fun!
They also have programming which included Zootek (a hands on interactive edutainment show all about animals).
We also went on a horse drawn carriage ride which was scenic and so fun for the kids!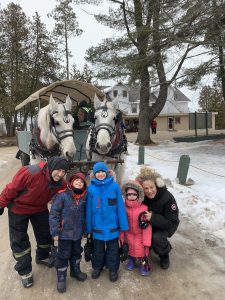 They also have a wide variety of classes for adults (think cocktail classes, yoga etc). They also have nightly entertainment which changes daily (DJ dance party, hypnotist, magic etc). You won't ever get bored at Bayview Wildwood Resort, there's truly so much to do!
– Staff –
The staff at Bayview Wildwood Resort care about the guests. They go out of their way to make their experience pleasurable and one to never forget. I would like to highlight a few extra special people that made our winter stay fantastic: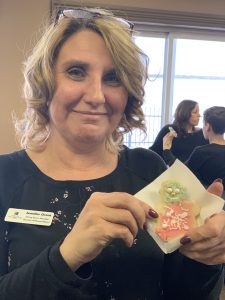 Jennifer, the dining room manager. Jen is an absolute joy and such a great addition to the Bayview Wildwood Resort family. She's so kind, caring and compassionate and got to know each one of my kids during our stay. She made sure to interact with them at meals and even came to visit us at the cookie decorating workshop. Jen is one of those rare individuals that truly wants to make everyone happy and it shows! She's fabulous and I can't wait to see her again on our next visit up!

Dakota, took care of our kids during kids club. She's loving and caring and made their experience during the activities one to remember.
Thanks to all the staff for spending their holidays with our family!
We will be back VERY SOON for another amazing getaway! Until then, we keep the memories in our hearts.
To find out more information about Bayview Wildwood Resort, click HERE!
xo
SZ
Disclaimer: Our trip was provided for this review. All comments, opinions and photos are strictly mine.