Hi MOMS,
We recently returned from a fantastic stay at Bayview Wildwood Resort, a mere 90 minutes away from our home in Toronto.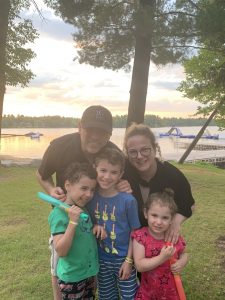 All we told the kids prior to our trip was there would be activities for them and lots of fun. Let me tell you, it was SO MUCH MORE!!
Arriving at the resort we were greeted by super friendly staff (more on this later) and checked into our beautiful room. They've done some renovations at the resort and our room was spectacular. It was a two-bedroom that was modern and tastefully designed. The kids shared a room (with two large double beds) and the staff made sure to put up bed rails (it's all about the little and important things). The room also had a flat screen TV, which was amazing especially during the morning when mommy and daddy wanted some sleep! 😉
The master bedroom was light and airy and had a super comfortable king size bed and large flat screen tv. There was also a super clean washroom plus a mini fridge. The master had a fireplace for those cold nights and a stunning balcony that overlooked Lake Sparrow. Honestly, waking up to the glistening lake was beyond my expectations. We were able to see sunrise and sunset all from the comfort of our room, it truly was magical!
Once we settled in, we decided to explore the grounds a bit before dinner. The beauty of Bayview Wildwood Resort is it's an all-inclusive resort. Our meals, activities and accommodations were all included. I'm about to dissect each of those sections for you:
MEALS:
Breakfast, lunch and dinner was in Echo's Dining Hall. Our table had lakeside views which was breathtaking.
Breakfast and Lunch were buffet and the items were fantastic. Dinner had a buffet for the kids and delicious menu choices for the adults (that changed nightly). I loved how Bayview Wildwood Resort thought of everything, including the fact that kids eating first (via the buffet)  makes sense!! For breakfast, there was a mix of hot and cold options that changed daily. One morning we had scrambled eggs with pancakes. Another morning we had Eggs Benedict with sausage. There was a fabulous array of cereals (both healthy and sugary ;)) and a wide assortment of breads, fruit, yogurt, cheese + so much more! We loved the build-your-own omelette station! The chefs were so accommodating with our choices and they truly created egg masterpieces!
Did I mention dessert? There was a wide variety of scrumptious desserts for every meal.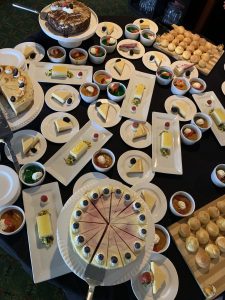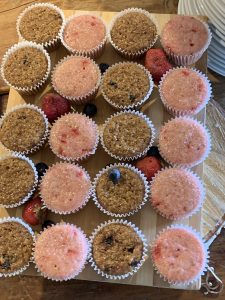 For lunch there was a variety of options, our family LOVED the build your own sandwiches (think yummy meats, cheeses, garnishes). Also the french fries + poutine was a big hit! There was also gourmet salads, vegetables, soup + so much more.
For dinner, Kevin and I ordered from the nightly three-course menu which had 5+ star options. Some of those choices that we ordered included:
Housebaked focaccia with a herbed mushroom topping + parmigiana reggiano cheese
Golden Frisee Salad with roasted beets, toasted sunflower seeds, 

crumbled goat cheese in a raspberry vinaigrette
Grilled chicken breast with mango and cilantro
Slow roasted Rack of Lamb
Baked fillet of Tilapia with a dill hollandaise sauce
Passion fruit cream puff with a peach sauce
Dark chocolate parfait with caramelized bananas in a rum sauce
Are you hungry yet?! 😉
KIDS CLUB
What makes Bayview Wildwood Resort a destination for so many families is its extensive kids club program. They've created clubs based on age + activities. Benny and Zoë were in the "Discovery Camp" which is for children aged 3-6. The camp ran from 9 am – 1 pm daily (minus on Sunday) and then regrouped in the evening. The kids made art, played games, went out to the beach and had a blast together. They provided a morning snack as well, which was an absolute bonus!
Zach had a choice of two different camps: Adventure Camp or Kreative Kids. These camps are for children aged 7 -12. Both camps are fabulous! Zach loved every minute of his experience.
True story: Zach fell into the lake while fishing during kids club.
Zach's forever fishing story!! 😉
Of course, we all had a big laugh about it and his counsellors who we LOVED all said just wait till he creates a story about his experience. Wouldn't you know it?! He's telling all his friends now that he caught a HUGE fish and it took him out into the lake and he wrestled with it and he was able to swim back to shore! 😉
The above is just an example of the fun they had during camp. Zach's group built sand castles, played catch in the lake + so much more. If only we had kids club daily at home, that would be super awesome!! 🙂
The kids club counsellors and staff were fantastic. They were all social, accommodating and enthusiastic. They really love their job and it shows!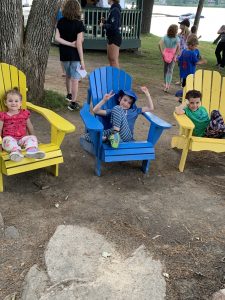 They created such a fabulous experience for our kids which included bonfire night, sing-a-long karaoke and so much more!
FUN FOR ADULTS:
The beauty of Bayview Wildwood Resort is when the kids play, the parents get to as well! There were TONS of activities for the adults from bike riding, trail explorations to organized nights (dancing, themed bands etc).
We could spend time just the two of us, relaxing and taking in the sights. It was a welcomed break and a great opportunity for us to re-connect!
Bayview Wildwood Resort offers the best of both worlds: an amazing experience for kids to have fun and make new friends and a space for parents to just chill and have downtime.
The resort offers a bunch of indoor and outdoor activities during the summer including:
Indoor and outdoor swimming pools

Indoor hot tub

Beach: large sandy beach with an inflatable water park

Children's playground

Nature trails

Exercise room

Badminton court, equipment supplied

Baseball diamond and equipment available

Basketball – outdoor court available

Tennis courts – one for night use as well

Bicycling: cycle through the back woods or the country roads. Cruiser bikes and child tow-trailers are inclusive on most packages.

Games room – ping pong, billiards, air hockey & foosball. Play station and xbox also on site.

Outdoor games: shuffleboard, bocce ball, ladder ball, bean bag toss, croquet set, or horseshoes

Non-motorized water sports (kayaks, canoes, paddleboard) and they provide lifejackets + towels!!
They also offer for a fee:
Laundry service

Babysitters

Spa services

Bar

Boat cruises
Bayview Wildwood Resort also specializes in fun winter activities including:
Cross country skiing – skis, poles and boots are available on site. Three separate trails range on difficulty level

Horse drawn wagon rides – available on specific days

Ice Fishing – rods and minnows available.

Skating – equipment available on site. They have their own rinks set up!

Snowshoes – equipment available on site.

Toboggans – various hills to try out, equipment available on site.
As you can see, there's SO MUCH to do at Bayview Wildwood Resort that I promise you'll never hear from the kids, "I'm bored!" What makes Bayview Wildwood Resort stand out is the incredible activities, food and staff. From our first staff encounter to our goodbye hugs, we felt connected to the staff and they made our overall experience FANTASTIC!
We will be back VERY SOON for another amazing getaway! Until then, we keep the memories in our hearts.
To find out more information about Bayview Wildwood Resort, click HERE!
xo
SZ
Disclaimer: Our trip was provided for this review. All comments, opinions and photos are strictly mine.