My Review of Chefs Plate's Meals (Week of June 26, 2017):
I have three words for this testimonial: Fresh, Easy and Delicious.
Those three words effectively sum up my experience using Chefs Plate's services. I opened up the door and found a big brown box filled with various fresh Ontario-grown produce, pesticide and hormone free meat (chicken and beef) and sustainably sourced fish (Tilapia). It was like opening up presents on Christmas Day (or in my case, Hanukkah :-)). Did I mention the box also included portion controlled condiments and spices to make the meal preparation easy?!!
The first meal I prepared was the Baja Chicken Tacos:
I love how the recipe card is made of thick paper (this is SUPER important) because when you cook – especially in my house, stuff gets super messy. It was also very cool to see the breakdown of calories/proteins and fat. You can tell that the people at Chefs Plate spend time creating these recipes. It was methodical and EASY to prepare. The instructions were really simple to follow – for example: wash this or mix this together. This process makes it inviting to really anyone from the novice cook to an established chef.
The produce as you can see above was very fresh (crispy English peas and sweet cherry tomatoes were the highlight for me :-)).
The above picture highlights the beauty that was the Baja Chicken Tacos (in almost final form). The chicken was moist and proportioned. I love that! No cutting or dicing needed! I also really liked how they thought of everything in the recipe – including: making it not only appealing to the eye with the various bright coloured food but also equally delicious and satisfying as a complete meal.
The salsa and sour cream with chipotle mix was amazing. I could eat that for days 😉
The final product was delightful and downright perfection. My hubby devoured his portion and so did I. A fantastic overall first experience with Chefs Plate 🙂
The next meal we had was the Crispy Korean Beef Fried Rice:
Putting this one together was also super easy and fun too! I loved the crunch of the radish and the taste of the rice. This dish was my husband's favourite.
The completed dish in our house looked like this:
Trust me when I tell you that it tasted DELICIOUS. This is a definite crowd pleaser. True to form it was crispy and full of amazing spices (not to mention overall great texture and crunch!).
Our final meal to prepare was the Crispy Fish & Parmesan Zucchini Fries:
My hubby and I have become quite the fish eaters these past few years. I was so happy to see that the fish provided to us was sustainably sourced!! Besides being from a responsible fishery with high quality controls, the description matched the overall product. We were really happy with the taste and flavour of the fish.
Zucchini is a staple veggie in our home. Our kids love it! I really enjoyed how the produce once again was crisp, fresh and obviously delicious. A great pairing (not to mention good use of powder/spices) for a fantastic meal. I love dill. If I could, I would put it into every meal! 🙂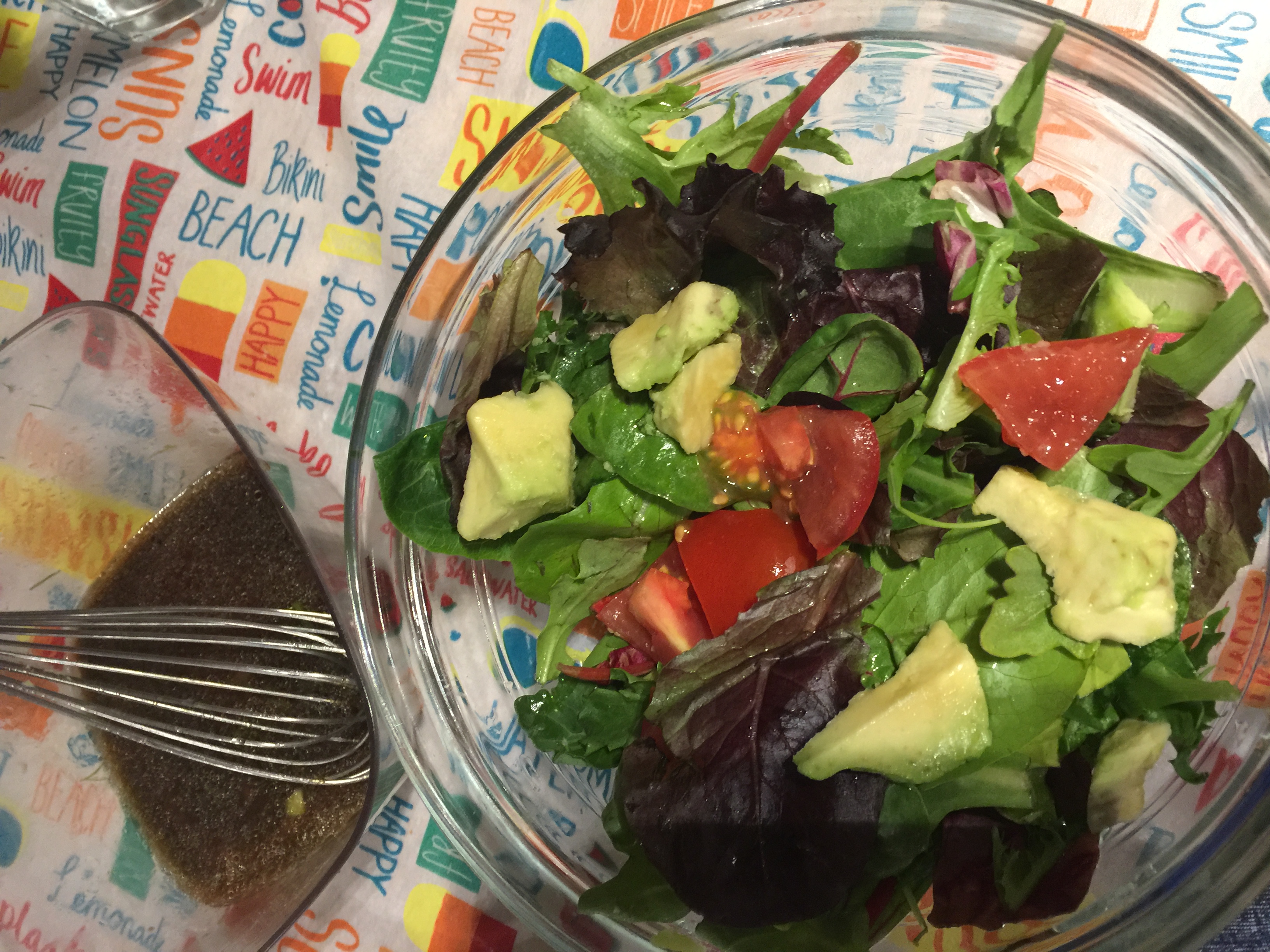 We decided to do a slight variant on the menu – by adding other veggies to the salad. We're also big salad eaters in the house!! We really liked their take on a simple dressing as well.
The final product was indeed a super flaky yet crispy fish paired with yummy zucchini fries that my kids ate up thinking they were regular fries 😉 
Overall I would say that we had three delicious meals. Really easy to prepare and equally easy to consume 🙂
Definitely a crowd pleasing process (as evident by my happy hubby and kids!)
Order your Chefs Plate meals today!! https://www.chefsplate.com