Hi MOMS,
I recently had the distinct pleasure of being invited to visit Hockley Valley Resort. Kevin and I were going up there to celebrate my birthday and what an incredible experience it was!
Driving up to Hockley took us one hour flat (from Toronto) and it was a scenic and picturesque drive. As we approached the resort, we passed a number of farms (more on this later) and the Adamo Estate Winery (where we had dinner, so much yum!!)
We entered the resort and went directly to our room (to drop off our 5 bags, we don't pack light ;)) and it was pure delight. We were staying in an Executive Suite and it was STUNNING!! For real, it had two levels: the lower level had a 3-piece bathroom, walk in closet, office area, large sitting area with a gas fireplace and a balcony with stunning views of the gardens including where they grow their own vegetables!! The top floor had an incredible washroom that had power jets at all levels, a super comfy and plush king size bed and another balcony. The room was luxurious and comfortable. Also to add: it's a perfect room for a family as well as there is tons of space!
After checking out our incredible digs, we headed directly to the SPA. I was really looking forward to my treatments (us MOMS need a break!). The spa itself was bright and airy. The changeroom had lockers with a key pad entry (I loved that!)
The facility had numerous rooms for guests to relax and wait for their treatments.
Kevin and I both had the Customized Facial (which includes 3 add-on treatments). I chose the Oxygen Blast, Alginate Peel Off Mask and the Collagen Eye Treatment.
Here's a bit more about each add-on treatment (and why you should BOOK these stat!):
Oxygen Blast
A pure oxygen infusion with firming and brightening serum, to promote a radiant
complexion great for all skin types.
Speciality Mask
Alginate peel off mask that lifts, firms and battles against free radical damage to leave your skin smooth and refreshed.
Eye Treatment
Instantly reduce the signs of fatigue eyes, helping with the appearance of fine lines,
wrinkles and under eye bags.
The facial left my skin feeling smooth and even.
My technician personalized my facial as we went, she worked on helping to smooth my t-zone and remove those pesky blackheads. The Oxygen Blast was cold and super refreshing. Honestly, my skin was truly reinvigorated! The Alginate peel off mask felt really great going on and it was easy to remove it (literally it peels off!). I loved the gold colour of the mask, it made me feel regal. My big problem area (at least in my own mind ;)) is my eyes (bags, puffiness: you name it!) being a MOM is hard (can I get an AMEN?!) long nights, lack of sleep and stress does a number on your eyes/skin. After the Eye Treatment, my eyes looked brighter. A MOM that was there who is in our group saw me and commented about how great I looked! It really did change my appearance and truthfully, my feelings about my eyes. I think that's equally important when searching for treatments, you want to look good and as a result, feel good!
Once we finished the facials, we headed over to the Spa Cafe which is directly in the spa (we didn't need to go far! ;)) I loved that we were able to have lunch in our robes. It made the experience feel that much more relaxed and comfortable.
For lunch we both dined on the Cabin Burger, which is a braised short rib burger and it came with onion rings. We also ordered the Parmigiano Truffle Fries.
Holy moly was lunch delicious. The house ketchup was out of this world!! We also ordered a glass of red wine that came from the Adamo Estate Winery!
11a73d60759a46e7a0b29c68ca772064
We finished off lunch with The Chocolate Mousse and Yogurt Parfait which was equally sensational. The desserts were fresh and creamy. The granola in the Yogurt Parfait was amazing!! Another important tidbit, the desserts and many of the dishes are gluten free!!
After our lunch, we took a walk along the grounds and I have to say the resort is beautiful. It's no surprise that many book their weddings and special occasions at Hockley. Lots of lush greenery and while we weren't able to swim in the outdoor pool (it was too cold) we did have a look at the indoor pool and sauna, which was beautiful as well!
For dinner we took the shuttle to Adamo Estate Winery and this was a magnificent feast from beginning to end.
The Paddock Cafe restaurant itself is in a beautiful open and airy room that has wall-to-wall windows (the sunset was stunning!)
When we arrived we were taken to a table that had a great view of the kitchen. I love seeing the chefs hard at work! We had the Wine and Unwind Dinner Experience which gave us so many options for dishes to try! It's a sharing menu and it really allows for a variety of dishes and tastes!
We started off with the Estate Focaccia which was warm and delicious (it had sea salt on top). We then had the Seared Ahi Tuna which was equally fresh and delicious.
We also tried the Stracciatella Soup (shredded chicken, egg, spinach, reggiano) it was phenomenal! Kevin tried the Mussels and the Shrimp Fritti and he raved about it! I don't eat shellfish but if I did, I would've grabbed those out of his mouth. They looked amazing!! We then ordered the Gnocchi and Risotto (this was cheesy and creamy deliciousness). We ended off by having the Lasagna and I have to say it was literally the BEST lasagna I've ever had. It was veal and a mushroom/spinach mix with incredible cheeses. I probably would've eaten a whole tray of it if Kevin wasn't looking! 😉
We drank some incredible wines and were treated to a live performance by a truly talented singer.
When it was time for dessert, they brought out a stunning wooden plank that had some spectacular homemade treats (think Brownies/Flourless Chocolate Cake, Lemon Tart (with marscapone) an incredible Vanilla Bean Ice Cream + so much more. The presentation was equally as flawless as the taste of the desserts. We found out that they grow many of their own produce/herbs etc and if not, they do their best to locally source all of their ingredients (from the local farms be passed)! I absolutely love this!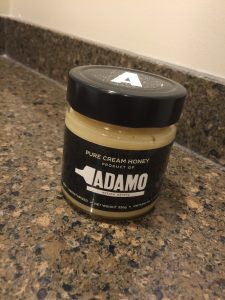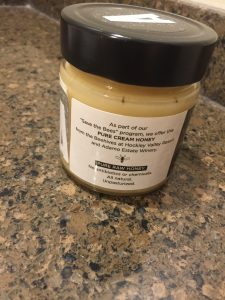 The other added bonus is they have a bee farm at the Winery/Hockley. The honey is literally the most creamy and delicious honey I've ever had. We ended up buying some when we left!
Meeting the two chefs was such an honour and I commented about what a fantastic experience we had at Adamo Estate Winery. You have to come and have a meal here!!
The next morning we started with a full buffet breakfast that had french toast, eggs and all the fixings. I headed straight for the granola and honey (they make their own!!!)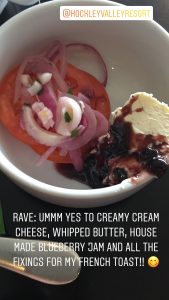 The entire breakfast was beautifully set up and delicious from start to finish. The views of the grounds during breakfast was beautiful.
After our meal we headed back to the spa where I enjoyed a Spring Body Glow. This was a lavender treatment (exfoliation, scrub, massage) and I loved it!! My skin felt brand new!! This was then followed by two smoothies (berry + green). You asked for my review on the smoothies, and I absolutely loved them! Not super sweet and a good element of tartness. It was truly smooth going down.
Here's the thing: as MOMS we all need a BREAK! We don't get much down time and when we do, it's usually rushed and not as relaxing as we had hoped! That's why I truly recommend visiting Hockley Valley Resort. You will feel pampered and rejuvenated and it's close to Toronto! Even for a day visit to the Spa and Adamo Estate Winery would be a great excursion! Whatever you decide, know that the staff are there to make your experience pleasurable. I would wholeheartedly recommend Hockley Valley Resort as an ideal getaway!! I plan on returning very soon!!
Book your stay HERE!
xo
SZ