Hi MOMS,
This past weekend, we celebrated my son's 6th birthday at LEGOLAND Discovery Centre at Vaughan Mills. I have to say, they went above and beyond to ensure that my guests were happy and well fed.
From the moment you walk into this LEGOLAND paradise, you're transformed to a space where your imagination takes over. Some of the features include: LEGO 4D Movie (I won't tell you what happens during the film, but it's a DEFINITE experience and must see attraction); MERLIN'S APPRENTICE ride – where the excitement is pedalling fast to reach the sky (this was my kids favourite ride so much so that they kept wanting to go on it AGAIN and AGAIN! ;)) Zach loves NINJAGO so he obviously played with his friends in that exhibit. Another great spot was SPACE MISSION! The kids thought it was so cool! It's their newest attraction!! Honestly, you can't go wrong with any activity at LEGOLAND. The other thing that I wanted to point out is how LEGOLAND is targeted to adults as well!! It's fun for the whole family – all in one experience.
Besides all the games, they also have a dedicated cafe with various snacks and cold drinks. I like this idea. So many of us quickly pack up our kids and forget to bring food with us when we go out. This allows MOMS to relax and not worry about something as simple as a snack for your child. Tasty treats and cold drinks!!
In terms of birthday parties, well what can I say except for the fact that we had a fabulous time and we didn't need to set up or clean up!! Bonus!!! 🙂
We had a dedicated host (actually two of them, plus others who helped as well) who set up the room and announced the lego build, assisted with handing out food and cake. I wanted to recognize three of these incredible employees who truly went above and beyond their duties to help us! Next time you have your party there make sure to say hi!! The staff (and great staff that is: Vishnu, Veronika and Alex ) truly made the experience worthwhile!!
In terms of the room set up, it was amazing. They really made sure every last detail is included from the decorations, table setting and even to the LEGO cake!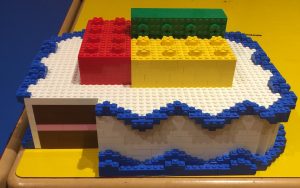 The host made sure everyone (not just the kids) had pizza and drinks. I really like the idea of concierge service in that it eliminates the worry for parents. We had nothing to do except for relax and socialize during the party. 
They were also accommodating to us as we needed to bring in Kosher food for some of our guests. I think this sets them apart from other entertainment based venues. They are very amenable to suggestions and they made sure to coordinate from beginning to end so that everyone is included.
I would definitely recommend booking your child's birthday at LEGOLAND Discovery Centre. They will have a blast!! Guaranteed!!
Make sure to check out the 40th Anniversary of the Minifigure happening June 2-3 and 9-10th!!
Visit legolanddiscoverycentre.ca
LEGOLAND® Discovery Centre Toronto
1 Bass Pro Mills Drive
Vaughan ON L4K 5W4
Canada
XO
SZ