Hi MOMS,
I recently received an assortment of Mann's fresh (ready to eat) vegetables and accompanying products (Mann Packing Company) and I have to say, I'm super impressed. #AD: As a MOM of three, I truthfully don't have the time to scour the grocery store for the freshest produce and Mann's makes this experience EASY. Their freshly bagged vegetables are triple washed and ready to eat which makes dinner prep convenient.
This was also my first time trying Mann's CAULILINI® baby cauliflower and we loved it because it was:
crunchy
lots of flavour (tasted sweet)
you can use the entire vegetable
can be eaten raw
it comes triple washed and ready to eat
you can also steam it right in the bag
So just to reiterate how versatile the Mann's CAULILINI® baby cauliflower is: you can eat it RAW, you can FRY it, STEAM it or GRILL it. We decided to fry it along with the other Mann's vegetables we received.
My MOM is a HUGE cook in our family so when I told her all about my amazing Mann's shipment she jumped into action cooking a fabulous vegetable stir fry using Mann's CAULILINI® baby cauliflower and all of the ready to eat products that Mann's supplied. Check it out below:
Nonna cooks with all the Mann vegetables!!
After blanching all the hard vegetables and making the sauce for the stir fry, Nonna put in all the Mann's vegetables into a wok with a thin layer of oil. See the next clip to see the deliciousness go down…
Obviously, Nonna makes it all look EASY but truly it really was with the Mann's CAULILINI® baby cauliflower, BROCCOLINI® baby broccoli California Stir Fry and Broccoli Cole Slaw being so FRESH! Last part of her creation can be seen below:
Nonna's stir fry sauce gets added and VOILA!!!!
True story: the kids gobbled this up and asked for MORE!!! It was a win-win and if you have picky eaters at your place, they will go crazy for Mann's CAULILINI® baby cauliflower and their entire line of vegetables.
Nonna's Stir Fry Sauce:
1/3 cup of Soy Sauce
3 tablespoons of Water
2 tablespoons of Rice Wine Vinegar
1 teaspoon of oil (Sesame or Olive)
2 teaspoons of Sugar
1 tablespoon of Corn Starch
1/4 teaspoon of Mustard
Nonna's Stir Fry Recipe:
Whisk it all together.
Stir fry on high heat for a short period (5 minutes). Start with the hardest vegetables and then go with the softest. Optional: grate in ginger and garlic to taste. Toss the garlic, ginger and other spices of your choice into the sauce and cook it for another minute and remove promptly from the stove.
The final result will look like this, (also isn't Nonna the cutest! ;))
I also received two Mann's NOURISH BOWLS®: these are ready to eat dinners made entirely out of vegetables!! How awesome is that!! Check out my reviews below:
My review of the NOURISH BOWLS®
The first one I tried is the Tomato Bolognese which was a blend of Kohlrabi Noodles, Carrot, Vegan Sausage (my first time trying it) in a Marinara sauce with Parmesan Cheese. Super easy to heat up and ready to go! It had a very nice flavour to it and truthfully, it tasted like a big bowl of spaghetti and meatballs without the actual pasta and meat. I felt FULL and had a pep in my step after. Who knew eating all these vegetables would actually give you energy?! 😉
The other NOURISH BOWL® was the Basil Pesto and it was equally as good!! This one was a blend of Kohlrabi Noodles, Kale, Vegan Chick'n in Pesto Sauce and Parmesan Cheese. Hungry yet?! 😉 If you LOVE pesto, you'll love this one and I do. I'm so glad that I got to try it and frankly, a FRESH meal that I can warm up in 4 minutes flat is a win-win for me and my family.
With both noodle bowls I tasted the freshness and high quality of the vegetables.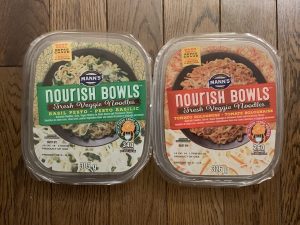 Overall, the NOURISH BOWLS® are a BIG thumbs up from ME (and my family!) 
To find out more information about Mann's CAULILINI® baby cauliflower and all the other products that Mann's carries, check them out HERE!
xo
SZ
#MannsAd
#paidbyManns
#sponsored
Disclaimer: Compensation and product was provided for this review. All comments, opinions and photos are strictly mine.