Hi MOMS,
This winter my family got to experience some of the finest attractions within Toronto and it was a total blast!
We started our adventures at The CN Tower. My husband and I have been there before as kids on a school trip and with our families but our kids were new to the experience and let me tell you, they took it all in and had a wonderful experience!
Let's start with the high speed glass elevator: it takes only 58 seconds at 22 kilometres (15 miles) per hour to get to the top!! I didn't realize how fast it actually was until I got in it. They now have a glass floor in the elevator which was totally cool! Seeing out as we went up and seeing down was equally thrilling and exhilarating!! The kids loved the views as well!!
The first stop was the Look Out Level: the views from this floor were incredible! With floor-to-ceiling views of the city and beyond, it's a site not to be missed! We took some excellent pictures from this level and got to see some Porter planes land. The kids loved just watching the hustle and bustle of the city. From these views, everything looked so small!
The Glass Floor is something every Torontonian and tourist alike should experience: you can stand on it, walk, jump, sit, lie down or do the chicken dance if you so please! 😉 I was really pleased to see my kids go with the flow and face their "fears" by embracing the floor with so much gusto! I love heights, so for me, this was exciting. What I most liked about the glass floor was watching the reactions of others on it. There were some that were timid or scared and others that went right for it, it was a great experience in facing your fears! Some neat stats: the floor can withstand the weight of 35 moose! They have a chart that outlines all that the floor can handle, so don't worry and go for it!!
The Glass Floor was the world's first when it opened on June 26, 1994.
Fun fact: the floor is 23.8 square metres (256 sq. ft) of solid glass that is five times stronger than the required weight bearing standard for commercial floors. 
We then travelled to the SkyPod (this requires a separate ticket): this level is another 33 stories up!! I didn't know that the SkyPod is one of the highest observation platforms in the world! Note: this elevator was much smaller and didn't have any windows. It was also a spectacular view from this level.
All in all, I would say our experience at the CN Tower was nothing short of incredible! The kids learned and saw so much and my husband may or may not have overcame his fear of enclosed spaces! 😉
---
Our next visit was to the Ontario Science Centre. I distinctly remember visiting here during my childhood and I would like to start this section of the review by saying how much it has changed. There are much more interactive exhibits and exciting activities for the kids (and parents alike).
Did you know that the World's largest Pac-Man can be found at the Ontario Science Centre?!!
We spent a good 4.5 hours at the Ontario Science Centre. It was a day of new discoveries and a space where the kids can just be kids.

From their play area to learning about the planets to the hair raising demonstration, it was a super fun and interactive day.
What stood out the most to me was how friendly and patient the staff were. There was a memory demonstration and the staff member explained in detail what my kids needed to do and she was so patient and understanding (my kids needed a few more times explaining what the next steps were). It was an extra offering and one that they still talk about today.
In those hours, we didn't even get to see all the exhibits, that shows how much there is to learn and experience. On our next visit, we plan on going to the IMAX!
---
On NYE, we visited Medieval Times Dinner and Tournament and we were so happy to spend family time feasting and watching the show!
Our arrival to Medieval Times!!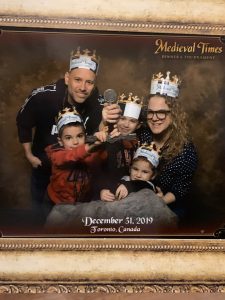 We were cheering for the black and white knight and the kids loved every minute of the show. The music and visual display was timed perfectly and we really liked how the characters all had so much personality!
The food came out in intervals and it started with a tomato bisque soup which was then followed by garlic bread, roasted half chicken, corn, potato and ice cream with caramel sauce for dessert. There was also coffee and tea served plus juices for the kids.
I thought the food was very tasty and the portions are huge. The kids couldn't finish all of their portions. I would say that this time our server wasn't the most attentive (we've been before and had wonderful care) but overall, we had a very fun experience!!
For additional information about the CN Tower, Science Centre and Medieval Times, check out: http://attractionsontario.ca
xo
SZ
Disclaimer: Our experiences at the CN Tower, Ontario Science Centre and Medieval Times was provided for this review. All comments, opinions, videos and photos are strictly mine.