Hi MOMS,
I recently had the distinct pleasure of being invited back to visit Hockley Valley Resort and this time with the kids! Kevin and I went last year to celebrate my birthday and I was so excited to be asked to return once again! I had ZERO apprehension of going during COVID because I know Hockley would take great precautions to make sure everything was clean and socially distanced (and they didn't disappoint!)
I wanted to start off by saying how much I adore Hockley Valley Resort for the following reasons (that I'll get into further detail later):
Staff: super friendly, greet you when you walk in and go out of their way to make sure you have the best experience!

Accommodations: spacious, modern and CLEAN! The views are EXCEPTIONAL!!

Food: Hockley Valley has the MOST amazing and delicious food. No joke, its always super FRESH and yummy!

Fun: The pool was open, the kids club was happening and there were tons of outdoor activities to be had.

Spa: need I say more? 😉

COVID precautions: CONSTANT cleaning/disinfecting. Staff were wearing masks while inside (and outside) all the buildings.
Driving up to Hockley from Toronto is super easy at only an hour. Once you get to the grounds, this sense of calm surrounds you. Picture beautiful flowers, gardens, a vineyard, farm land (where they grow their own produce) and the serenity of knowing you can just escape and unwind.
See here for the view coming into the resort: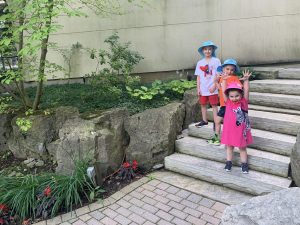 It really is this BEAUTIFUL! You can also tell they take great pride in maintaining the grounds.
When you walk in, you see a Touchless Hand Sanitizing Station in addition to some great signage with directions of where to stand (for check-in and check-out).
Guests were required to wear masks 24/7 while inside the resort, we happily obliged!
We were greeted by the amazing front desk team who from beginning to end, made sure we had a fantastic experience.
The first thing we did was go for drinks by the pool.
Juice for the kids and grown-up juice for us! 😉 Speaking of the pool: the hours are from 8 am – 8 pm and as you can imagine, it was the place-to-be (all with the proper social distancing). I had so many people comment about how nice it was to see the resort practice great social distancing and use all the precautions (spacing out all the dining areas, pool loungers, tables etc). See more about this in my Instagram stories (where I created a dedicated Hockley Valley highlight reel). You can find my account here: https://www.instagram.com/themomrant/
Can you imagine seeing these views from your hotel room?
The importance of having ME time
The first family activity we did was swim. Hockley's outdoor pool is awesome and has a very pretty waterfall as a backdrop. We ended up spending quite a bit of time in the pool area. As I mentioned above, the staff made sure the area wasn't too packed and had spaced out the loungers to ensure safe distancing between guests. There was no time restrictions to the pool (I've heard other resorts limit your fun!)
It was so beautiful that I would find myself getting carried away by the peacefulness of the scenery. Evening balcony views didn't disappoint, check this out (no filter required!!)
Our plan for the first evening was to go poolside and have dinner at Babbo restaurant. The kids changed our plans when they reminded us we promised them dinner in bed and a movie. So we happily obliged and took Babbo to go.
Let me start off by saying the food at Hockley is AMAZING. No word of a lie, they're known for their food. Chef Iniyan Vijay is a culinary genius.
I stand firm behind that title. Meeting him last year, and trying his food then and now, it's truly incredible the dishes he can create. He's a master artist both in taste, design and overall presentation. I especially appreciate his focus on using local ingredients to create his delicacies. More on his incredible skills later on…
Back to Babbo: we ordered grilled cheese and fries for Zach and Benny while Zoë opted for the burger and fries. The food here and at every meal was definitely #kidapproved!
These aren't your typical "kids meals" you can taste the freshness and it's gourmet enough that adults can eat it too! Speaking of which, Kevin tried to grab bites of their food at EVERY moment he could! 😉
I ordered the house-made Manicotti, which had a ricotta and spinach filling in a béchamel tomato sauce.
It literally was heaven in my mouth. So darn good!!! Kevin had Steak Frites (beef tenderloin and house cut fries) and he really enjoyed it! He commented that it was "perfectly cooked." That's one of the reasons why I love Hockley Valley Resort so much focus is on the attention to detail. They ask how you want it cooked and they make it to perfection.
Dessert was amazing!! The kids had homemade ice cream sandwiches
(chocolate, vanilla and strawberry) and we had these beauties:
In case you're wondering, no I didn't share. 😉
The next morning we went down for breakfast at Restaurant 85 and had a bunch of yummy dishes. The kids ordered pancakes, which came with berries and whipped cream.
Kevin ordered an omelette (without cheese) I know he's super weird! 😉
I had the Eggs Benedict and I'm so glad I did!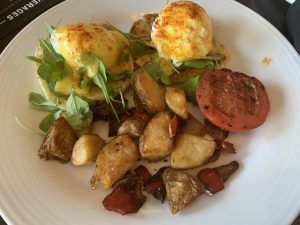 The hollandaise sauce was amazing. They also make really great homefries (which is their version of crispy potatoes with onions) and we were really digging it. In case you wanted a great coffee or specialty beverage, they also have a wide variety! Their cappuccinos were just what the doctor ordered to start the day off right!
After breakfast we went to go meet Jessie from Leap Adventures for a fun day (9:00 am – 4:00 pm) at Kids Club. Let me start off by saying that I instantly connected with Jessie. She's a powerhouse (fit and fun) and I knew the boys were going to have a blast and THEY DID.
They ventured into the forest, went for a hike, dunked their heads into the lake and swam too, did bungee jumping, zip lining and so much more. This is an add-on experience at the resort and well worth the $80 per day (which by the way, also includes lunch and snack, see signage above).
Jessie sent me photos and videos of the boys having the time of their lives and it showed! They came back and couldn't stop talking about how much fun they had.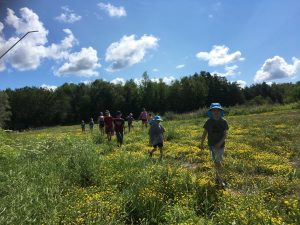 The bonus of enrolling your kids into kids club with Jessie is they're EXHAUSTED later (which was awesome) as they went to bed early and mom and dad had some (much needed) US time!
Back to our day: while the boys were at kids club, we spent time just the three of us and took Zoë for a swim!
After our fun in the pool, we headed over to lunch at Adamo Estate and Winery.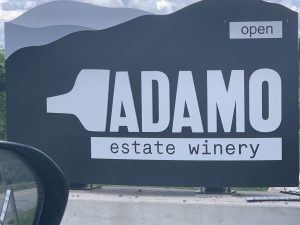 You can't miss this beautiful property (as it's approx 1km away from the resort). When you walk into the red doors you're transformed to a rustic, yet modern space. It's more than just an eatery. They have their winery, farm and the most amazing honey that is cultivated onsite!! The honey is literally like butter, so smooth and delicate – rich yet, satisfying. I may or may not have been eating it by the spoonful. 😉
For lunch, we sat outside with an unobstructed view of the grounds including the windmill, which Zoë gleefully pointed out.
We had Chef Iniyan Vijay's signature items including his focaccia, gnocchi and lasagna.
For dessert, the Nutella Affogato melted in my mouth! It was absolutely amazing!!!
The creaminess of the Nutella mixed with the freshness of the ice cream and the espresso was like a forbidden treat that you can't believe what you're tasting but you're also quick to keep it all for yourself.
After lunch, Kevin went to the spa and had a body scrub and a pedicure.
Zoë and I ventured around the grounds exploring the sights and sounds. Once we were done, I promised her I would see if the spa could fit her in for a polish application.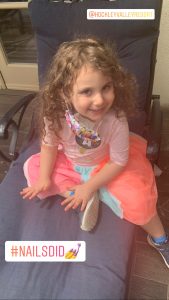 Sure enough, they were beyond accommodating and made sure Zoë's first time at the spa, was a memorable one.
Then it was my turn, I went in for a manicure and pedicure and Sofia was amazing.
I found her so knowledgeable about the spa offerings at Hockley and patient and gentle with my very ticklish feet! 😉 She has a great eye for colour and style and suggested colours that would pair well.
She did such a great job that the polish has yet to chip even after typing, bathing the kids and just being a mom. I've gotten so many compliments about my nails! Thanks Sofia!!!
For dinner, we ventured over to Cabin Restaurant and had a feast of all senses. The kids enjoyed their  Shirley Temples and devoured the focaccia that came to the table. They enjoyed their meals and so did we! We both had the Wellington County Beef Tenderloin and it was AMAZING!!
Again another fantastic dish from Chef Iniyan Vijay and he didn't stop there! Dessert was a work of art, well thought out and carefully executed.
A perfect ending to a wonderful meal!
The next morning, once we finished breakfast, we hit the pool again and then packed up to go. While we were bringing everything down to the car, we told the kids there was one more surprise and that was wood fired pizza lunch in the garden!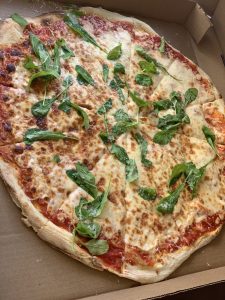 They have the most amazing outdoor pizza oven that is the place to be! They offer this extra experience Friday – Sunday's from 12:00 -5:00 pm. Besides the delicious (thin crust) specialty pizzas, they also have a mix of cold drinks as a great pairing.
With our bellies full and our memories fresh, we departed Hockley Valley Resort knowing we will be back again soon!
You still have LOTS of time to book for a summer experience with your family. I guarantee you, it'll be a wonderful and memorable vacation.
Till next time, mamas!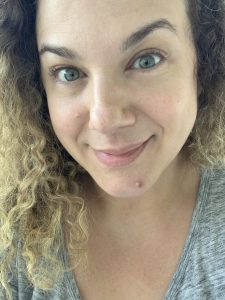 XOXO
SZ
Book your stay HERE!
Disclaimer: Our trip was provided for this review. All comments, opinions and photos are strictly mine.