Hi MOMS,
Last weekend, we headed to Clarington for a fun filled family weekend. It took us approximately one hour from our home (which was perfect) and we found the drive in to be scenic and easy. 
When we arrived in Clarington, we headed directly to our new digs at the Holiday Inn Express & Suites in Clarington.
We checked into our spacious Double Queen Suite which included two queen beds and a pull out queen sofa bed. A perfect set up for a family of 5! The hotel has an indoor pool, whirlpool and fitness centre. It was clean and quiet.
I didn't realize there was so much to do in Clarington! This month (October) it's Applefest and we got to partake in the festivities early by experiencing the Great Apple Adventure via our visit to Pingle's Farm Market and Archibald's Orchard & Estate Winery.
First up was Pingle's Farm Market.
This beauty is a must visit for families. It has the following fun activities:
Farm animals
Corn maze
Go Carts
Mini putt putt
The kids had a blast playing in the fun farm!! Check out the videos below to see all the action:
The kids jumping on FarmHoppers at Pingle's
The boys playing checkers at Pingle's
You can also pick your own apples and pumpkins at Pingle's!!
We ended our experience at Pingle's with food (of course!) ;). First purchase was their famous apple pie and butter tarts  Let me tell you, it was perfectly sweet and flaky. A must buy from Pingle's!!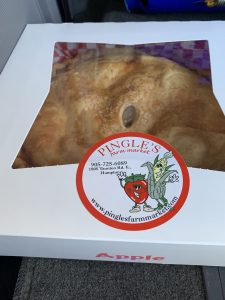 We also bought three types of fudge because how can you NOT buy fudge from Pingle's?! 😉
Mint ch0colate, M&M and Oreo cookie dough. Hungry yet? I only had one tiny piece (make that a crumb ;)) of fudge thanks to my amazing husband and kids who gobbled it all up! 😉 Next time I go to Pingle's I'll make sure to HIDE the fudge from my family (it's only fair! ;))
We also got hot chocolate for the kids and hot apple cider for daddy to wash all the yumminess down. I thought the hot chocolate was not too sweet and the apple cider was perfect for the cool fall day we experienced.
We can't wait to visit Pingle's again soon, it really is a MUST VISIT for families in Clarington!!!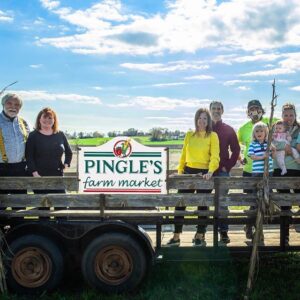 We then headed to Archibald's Orchard & Estate Winery for an apple picking experience.
Driving in the orchard there are clear signs that direct you to the various rows of apples. On the day we were there, we had a choice of: Cortland, Gala, McIntosh, Empire and Spartan.
Beautiful apples here at Archibald's
We also found a row of Honey Crisp (HUGE bonus!) I got the kids to pick the apples, they loved it!
Who knew apple picking was going to be such great exercise as well. Lots of walking and stretching to pick those incredible apples. We found them super sweet and crunchy. Also I noticed how FRESH the apples truly were.
A totally different experience then the ones you buy in the store.
The kids were fighting over which apple they could pick so I gave them each a bag for their apple picking adventures!
I found the orchard well laid out and with clear signage as to where the apples could be located. Can I just add that their pricing is super reasonable: $35 per half bushel (201b) any variety. So worth every penny!!!
I absolutely loved the orchards.
I truly felt connected to nature, check out my video review here:
My video review of Archibald's Orchards
After the apple picking experience we headed into the Farm Market.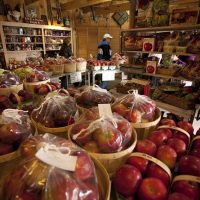 We then purchased a bunch of yummy local products including:
Their apple crisp pie which we found to be true to its name: crispy with just the right amount of sweetness. We loved the taste and flavour.
We're HUGE apple cider fans and when I saw a cold jug of fresh pressed apple cider, I knew I had to buy it!!
It was beyond delicious. I can absolutely say without any hesitation that it was the BEST cold apple cider we've ever had. I loved how it doesn't have any preservatives also. This makes me feel good giving this to my family!! Great job Archibald's on producing such a tasty cider!!
We also picked up some local Wildflower honey.
We're still celebrating our Jewish New Year and the combination of crisp apples coupled with fresh honey is how we enjoy our holiday. My family loved the taste of the honey, it was creamy and smooth.
We will forever remember our experience to Archibald's Orchard & Estate Winery!!
We then headed over to The Old Newcastle House Taps & Grill for a yummy dinner. Walking into the restaurant, we were greeted with this sign, we knew we were in the right place! 😉
The menu had a vast array of dishes for every taste.
Some of their house specialities include:
Slow roasted beef (Yorkie Bowl)
Chicken parmesan
Panko crusted cajun chicken alfredo
We made sure to try a wide assortment of dishes that were flavourful and had a great taste.
They also have an awesome kids menu which includes:
Chicken fingers & fries
Fish and chips
Pizza Pocket
Grilled Cheese
Pasta (linguine or penne) tossed in butter marinara or alfredo sauce
Each kids meal comes with pop or milk + ice cream and a treat from their toy chest.
Picking a toy from the treasure chest
You wouldn't believe it but all of that is only $7.50!! Such a great price!!!
The kids really enjoyed their meal!!
Thanks for the great dining experience, The Old Newcastle House Taps & Grill. We will be back soon!!
After an exciting day we called it a night and the kids went to bed early at 11 pm! 😉
The next morning we headed down to the breakfast buffet in our hotel. We ate eggs, bacon, pancakes, cereal, oatmeal, yogurt and so much more. It was a complete breakfast and such a nice offering from the Holiday Inn Express & Suites in Clarington.
After breakfast, we headed over to Jungle Cat World Wildlife Park for a family experience.
I've never heard of Jungle Cat World before this experience and I'm so glad we were able to visit. Jungle Cat World is engaging in very important work and it shows!
Here's their story in a nutshell:
"We at Jungle Cat World Wildlife Park believe that all living creatures are significant and must be treated with value and respect. Our passion, purpose and why we exist, is to provide hope and solutions to ensure the survival of wildlife and endangered species for future generations!"
We explained to the kids that what they were witnessing were animals that were in danger of extinction. Jungle Cat World is helping to educate and inform the public about why the lives of these animals are important.
Visiting the LION at Jungle Cat World
A trip to Jungle Cat World also includes some fun time in the kids area. Zoë loved going on the teeter-totter with Zach. She had such a great time and other kids were there as well. It's a good way to space out the experience at Jungle Cat World.
Zoë playing at Jungle Cat World
I also really appreciated how we could be one with nature and be up close and personal to the animals. Case in point my conversation with this beauty:
When animals roam free at Jungle Cat World
The kids loved the Wolf Tower and we made a game out of it.
Could Mommy and Daddy reach the top? Answer: Mommy did though she was huffing and puffing! 😉
My climb up Wolf Tower at Jungle Cat World
The kids loved it when they reached the top we heard: "I'm the king of the castle!"
Another special element in the Jungle Cat World experience not to be missed!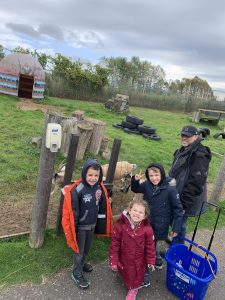 Thank you so much Jungle Cat World for allowing us into your space and teaching us the value of taking care of our animals and the planet they live in. BONUS: you can find a coupon to Jungle Cat World at http://attractionsontario.ca
We then headed over to Treetop Trekking in Stouffville and can I say this was a truly awesome experience. FYI: there are a number of Treetop Trekking locations including one in Clarington (which is for older kids, 9+).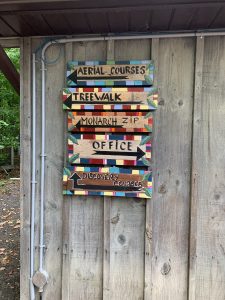 Picture a whole bunch of ropes and nets tied to trees and the kids can walk high up, jump and even go down the zip line.
Lush greenery and so many fun things to do at Treewalk Village
The boys had such a great time walking through the trees and exploring all that Treewalk Village had to offer!
Just a couple of boys walking through the trees
Treewalk Village is generally for younger children but Zach and Benny absolutely went crazy in there! So much to do and they loved the ability to try out so many different parts of the village. The net was a huge hit and they had a fun time "climbing" through it.
Massive net of fun at Treewalk Village
The kids had fun rock climbing on their miniature wall and then the fun concluded with the zip lining course. MOMS, this is a smart concept and the kids absolutely loved it. They spent a good 1+ hours on the zip line itself.
Zoë meet your zip line at Treewalk Village
I would definitely recommend a trip to Treetop Trekking and Treewalk Village for hours of entertainment (and physical activity) for your kids. You're welcome, mamas!!
For family vacations, this was one for the history books. Everyone enjoyed their experience and our waistline also expanded in delight! It was a win-win!
I'm already missing my experience in Clarington and I can't wait for us to return back soon! For more information about all the incredible events + things to do in Clarington, don't hesitate to check them out HERE!
For additional information and valuable coupons for experiences in Clarington and surrounding areas, check out: http://attractionsontario.ca
xo
SZ
Disclaimer: Our stay and experiences in Clarington was provided for this review. All comments, opinions, videos and photos are strictly mine.