Hi MOMS,
I recently had the pleasure of eating at R'Cottage Restaurant in the heart of downtown Washago, Ontario.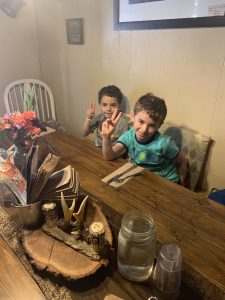 The restaurant looks like a cottage on the outside and it's unassuming until you walk in…
 and discover the uniqueness of the decor: plush pillows, wooden chairs, rustic style decorations and wall art that includes creative messaging:
The restaurant was created by Chef Ian Thompson with the premise of an eatery that focuses on fresh and locally sourced food. R'Cottage specializes in rotisserie chicken, prime rib and ribs (among so many yummy things). We arrived at noon and while the rotisserie wasn't on yet (they don't start till 2 pm) we enjoyed some fantastic food!
We started with an appetizer which was a creamy wild mushroom with leek soup accompanied by a garlic parmesan crisp baguette.
The soup had a luscious feel to it and I could definitely taste the leek (which I love!). The baguette was indeed crisp and delicious and may I say, perfectly seasoned!
The kids ordered Mac N'Cheese from the Little Cottagers Menu. Each meal on that menu includes a choice of drink + a buttertart dessert!
The Mac N'Cheese wasn't your traditional dish. At R'Cottage they blend a variety of cheeses to make it equal parts creamy and flavourful. The kids loved their lunch. Mommy and daddy had the leftovers and honestly, we would order this again (for ourselves) it was THAT GOOD!! Also, the portions are HUGE. You'll have leftovers! #win!!!
For our mains, we ordered two of their most popular dishes:
I ordered the R Burger which is a mesquite smoked burger with a wild blueberry BBQ glaze and the most delectable fried onion I've ever had.
This is the burger of ALL BURGERS and a MUST ORDER from R'Cottage!!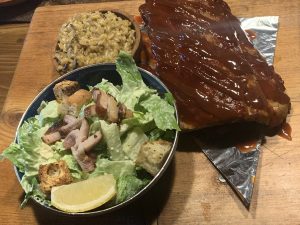 Kevin ordered the Baby Back Ribs (full rack). This is an R'Cottage speciality!! The ribs are coated in their homemade glaze and Kevin chose caesar salad and dirty rice (which is their yummy seasoned rice) for his sides. He loved the sauciness of the ribs and the creaminess of the caesar salad.
For dessert, the kids got a Buttertart dessert and it was crisp and yummy!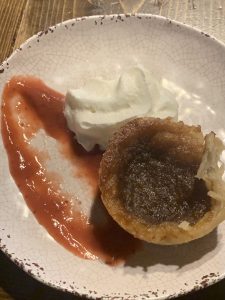 We decided to share (who am I kidding? I ate/drank most of it! ;)) the S'Mores Cheesecake and S'Mores Milkshake (what calories?! ;))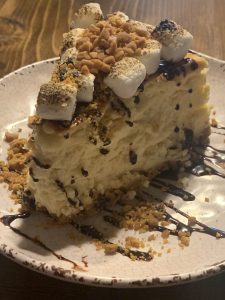 It was beyond delicious. The cheesecake was moist and had just the right marshmallow + cream combination.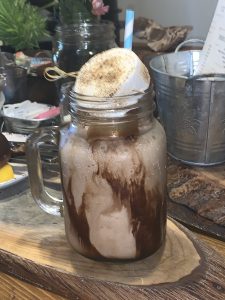 The milkshake was so incredible, I can't even put it into words. This is not your average milkshake, you can taste the impeccable quality in every sip. I'm craving it right now!! 😉
Once we had finished our dinner we got a chance to meet Chef Ian and it was such a lovely encounter.
He's just as passionate about food as he is about his own family. His daughter and Zoë became instant friends! It was really a sweet sight indeed!
I highly recommend visiting R'Cottage on your way to and from your up-north adventures!
xo
SZ
Disclaimer: Our meal was provided for this review. All comments, opinions and photos are strictly mine.