Hi MOMS,
I was recently sent a bunch of products from Sweets From The Earth and I have to tell you, I'm amazed by the taste, quality and freshness of the homemade products.
Here's why Sweets From The Earth works:
100% plant based
All natural ingredients
TWO 

separate

 baking facilities (NUT free / GLUTEN free)
No refined sugars
No cholesterol
No lactose
Non-GMO

No artificial colours, flavours or preservatives 

Kosher

VegeCert

Canadian Celiac Association-approved (Gluten free only)
What I LOVE about Sweets From The Earth is they have a NEW online shop that has CONTACTLESS DELIVERY!!! They ship all of their products including FROZEN items to their customers in the GTA.
I have an EXCLUSIVE 10% off discount code (MOMRANT10) from any online order you make at: https://shop.sweetsfromtheearth.com
Here's Sweets from The Earth Healthy Breakfast Staples Pack!
Which includes: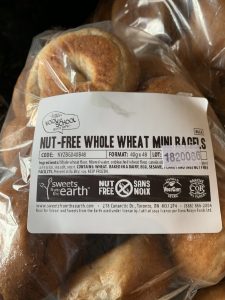 The whole wheat mini bagels were so tasty and fresh. We used them for egg and cheese sandwiches and the kids absolutely loved them! They asked us for more! I like the size (perfect for kids lunches) and how healthy they are!!
We tried the dinner rolls for a salmon meal we had. The kids love to butter bread at home and out so we tried it, and it was also a big hit!
The hamburger buns we used for the BBQ dinner that we had. Daddy made burgers and the kids got to build their own burgers (putting all their favourite condiments on the bun).
What I loved about the breakfast flats is that they're healthy YET delicious. The kids called it their "treat" and I was secretly laughing.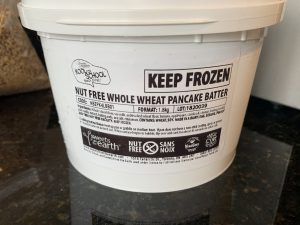 We were so into the whole wheat pancake batter. I appreciate that they put it into a tub and we keep it in the freezer for EASY removal and cooking. That's the key! MOMS have limited time especially during this COVID isolation and we need meal ideas that are QUICK and that our kids will LOVE!!
Can we just take a moment and talk about Sweets from The Earth's granola. I appreciate how crunchy and delicious it is (without all the ADDED sugars). I also loved how the granola is entirely NUT FREE.
They have really thought thoroughly about all their products to make it available for everyone (including those with serious allergies).
This is what sets Sweets From the Earth apart from their competitor: healthy choices that taste great!!
Now on to the SWEETS!!
We were sent their delicious Chocolate Cake in honour of our 9 year wedding anniversary!! The cake was equal parts moist and delicious. It was so good that my kids had NO clue it was actually good for them too!
They also inscribed a really sweet message for us, I really appreciated it!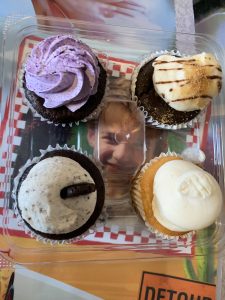 Sweets from the Earth has an amazing collection of cupcakes that are not only nut free but also Vegan!!
Such great designs and the flavour is literally amazing! My kids are obsessed with the S'mores cupcakes and the lavender one!
They also have an awesome line of cookies! Our favs are the chocolate chip and S'mores!!
The cookies are sinfully delicious without the additives and preservatives!
What's really neat about SFTE product offerings is they have ready to eat cookie dough in 4 different flavours and we had a blast baking and eating the dough right out of the container! 😉
Ready to eat (and bake) cookie dough
Now do I have your attention?! 😉 Grab all your fresh and healthy breakfast staples + treats (+ save 10% off your online order) from https://shop.sweetsfromtheearth.com/collections/sweets-from-the-earth
You'll be so glad you did!!!
xo
SZ
Disclaimer: Product was provided for this review. All comments, opinions, videos and photos are strictly mine.