Hi MOMS,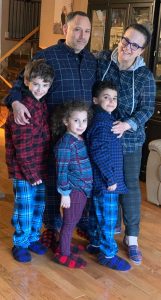 I tend to gravitate towards clothes that make me feel good and are fashionable all the while SAVING money!!
In light of everything and I mean EVERYTHING going on in the world right now, comfort is key!
I always find the clothes that work for my body type and fit my personality at Giant Tiger.
As y'all know, I always speak so highly of GT because I can find everything in the store. Hot fashions at ALWAYS great pricing. That's why Canadians, coast-to-coast, love shopping at GT.
I ventured to a GTA store and found such amazing plaid pieces for my whole family that once you see them, I know you'll be amazed!!! Best sizing (and I mean PLUS sizes that LOOK GREAT TOO!!!!!)
That's why I'm so excited to once again be partnering with GT to show you their extensive plaid selection for the whole fam! Want to WIN a $150 gift card to GT, ENTER HERE!
Plaid for Kevin: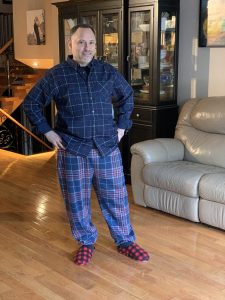 I'm going to start off with the plaid fashions I found for Kevin!! I'm telling you they really have ALL sizing, ALL styles at GT and with pricing so low, you'll walk out feeling good about your purchases!!
I ended up grabbing two outfits for Kevin (so many styles of plaid to choose from) but I chose these and let me tell you, he was so thrilled when I brought them home!
The other great thing about the plaid fashion at GT is, anyone can wear it. I bought a few awesome dress shirts (from the men's department) and they looked great on me too!!
Here's a breakdown of the items in all of their plaid glory:
This dress shirt had a really nice and cozy feel to it. It doesn't hurt that it was ONLY $18!! I mean if I showed you Kevin's clothes right now, you would be like this not only LOOKS better (stylish and functional) but the pricing can't be beat!! Honestly, Kevin didn't see the price and I played a little "guess how much this costs" game with him. He thought the above shirt was $50. He's basing that price on another plaid shirt that he has from another brand that costed $60!!!! I remember because I bought it!! 😉
Here are the pants that I put together with the above shirt:
Ok so I know you're probably looking at this thinking, those are pajama pants and heck you're not wrong BUT I can tell you right now, these are perfectly acceptable pants to go out with!!! Also super comfy and fits perfectly!! I know you're probably wondering if that $7 price tag is a mistake. The answer is NOOOOOO!! That was the price and I was just as shocked as you are reading/seeing this.
The next outfit I got for Kevin was equally as stylish and I loved the plaid and colour pattern:
I absolutely LOVED this shirt. I thought it looked the best on him and to be honest, blue is my colour so I tend to gravitate towards blue things!! 😉
This shirt and the red above both have a similar style, thus the same price point. Since I brought home these shirts, Kevin has worn it multiple (and I really mean it, multiple times). He made sure to tell me that he got a compliment on his new shirt from one of his clients! 😉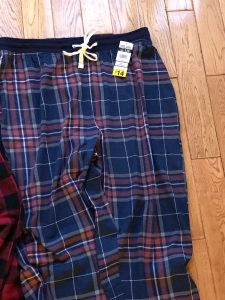 These pants were also my fav, I ended up buying two for me as well because they were SO COMFY!!!!! No word of a lie, you will LIVE in these!!! Also priced really well at $14 (at time of purchase). You can't go wrong with ether of these outfits for the special someone in your life (or even as an addition to your wardrobe!). 
I can't forget to mention the awesome shoes/slippers that I also got for Kevin. I also ended up getting myself a pair. I mean who can resist a super comfy pair of slippers?!! 😉
No shop would be complete without purchasing clothing for my 3 bundles of joy! 😉 I actually really enjoy shopping for them and seeing their smiling faces when I give them their "gifts!" My other favourite part is seeing Kevin's face at the end of the month when his credit card bills come through! Totally priceless! 🙂
Here's what I picked for the boys: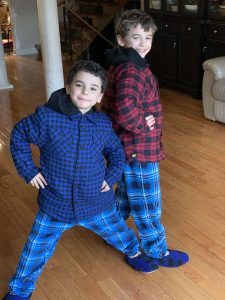 Yes, I know they have matching pants and similar jackets. Yes, I know they aren't twins but they're only 17 months apart so in my mind, it's perfectly acceptable! 😉 Ok so let's talk about how cute they look modelling their GT plaid fashions!! So awesome! I didn't ask for any posing. They really are my kids!!!! 🙂
So Benny and Zach are both wearing a very warm sweater jacket. I know there's a proper term for this so I apologize in advance to all the fashionistas out there!
What I love about these sweater jackets is obvious:
fashionable + trendy
great colours
warm
have a hood (so important for those cool fall + winter days/nights)
SUPER INEXPENSIVE!!!!!!
Both boys had mentioned the jackets were so cozy and warm and they adored the hood!! I loved the price point and at only $20, its an absolute STEAL!!!
The pants were another big hit in our house. They wore it to school the next day!! What I really appreciated about the plaid pants (besides the super cute blue colour) was the fabric, so cozy and comfortable and something the kids will feel good wearing all day!!
On to the slippers, I know how my boys are (and I know I'm not alone on this) if the kids don't have the exact same things (everything from clothes, to Pokemon cards) it's a fight. So I ended up getting them the same blue slippers and they've literally been living in them!!!!
The red ones are Zoë's! The patterned design, comfort and price were all reasons why I had no hesitation buying these for the kids. I'm so glad I did because in these trying times, anything that can bring a sense of normalcy to their lives, is a BIG WIN!!!
I ended up dressing the boys in two different plaid outfits because I wanted to show you how awesome of a selection GT has for their plaid fashion. Frankly, I found their selection for all their fashion to be great!
So you may be looking at this thinking this is total blue plaid overkill but I have to tell you, this outfit was the talk of the town at school!! Obviously you can pair the shirt with another pair of pants and the pants with another shirt but I wanted to show you that the possibilities for cute and fashionable clothing for your family is attainable and easily accessible from GT!
Benny's exact words to me were: "Mommy, I feel like a big boy in this!" That was like hearing music to my ears. I love the confidence he exudes in this outfit and it suits his fun and playful personality as well. 
Now to Zoë:
There's a massive toddler, girls and young adult fashion section at GT. You can find all that you're looking for and so much more at unbeatable prices! While I love shopping for my boys, there's something ultimately special about shopping for Zoë.
As you've probably seen in my stories, you know that Zoë is obsessed with picking out her outfits EVERY DAY! 😉 Nothing gets by her and especially in regards to fashion, she's in control.
I had a field day shopping for stylish and trendy clothing at GT. I picked up two outfits + a mommy and me shawl that I can't wait to show you!!
Outfit 1: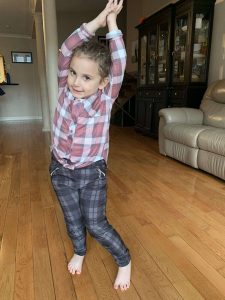 Okay, so I have no idea what move she's making but she's definitely in her element. I loved the fit of the shirt (with a tie knot at the front) and the zippered pockets on her plaid pants. It was a great set that really went well with her personality (pretty much a take charge, it's my way or the highway personality! ;)).
Here's a closer look at her shirt and pants:
The shirt was $8.97 and the pants were $11.97!!! How about that for a full outfit!! Such a great deal!!
Outfit 2:
Obviously I loved the bright blue and purple mix of the shirt. I also really liked how it had a hood, it made her feel cool! The pants were super cute and moved with her body, which I totally appreciate. It felt breathable and at those prices, it's a definite winner in our books!!
Here's a closer look at this super cute outfit:
The shirt was $11.97 and the pants were $8.97 (just like her previous outfit). Another great deal!!
Overall, the kids had a blast showing off their fashions and with these deals and so much more, you can feel good about shopping at GT!!
Having fun modelling GT fashions!
Now for the mommy and me matching shawls! So cute and we both have worn it multiple times already!!!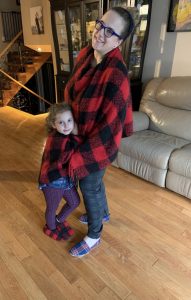 I love how GT gives you this option as a shopper to buy something cute to wear together!
Zoë literally squealed in delight when I showed it to her.
Here's a closer look at Zoë's shawl: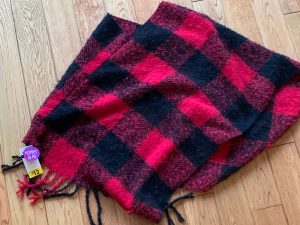 The boys actually got "offended" that I didn't buy them matching clothes with me! How dare I?! 😉 😉
Plaid for Me: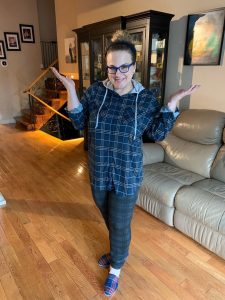 I'm a proud plus size mama. I've always been honest and proud of my sizing and my looks! Honestly, GT has the largest selection of fashionable plus sized clothing that I've found in my 20+ years of shopping.
What I loved about this look was obviously it's blue but moreso, that it's comfortable and chic. I'm also a huge fan of having a hood (which by the way, I've learned over the years is a great cover up for a really bad hair day!! ;))
Can we just stop to take a moment to admire the amazing plaid footwear I picked up from GT: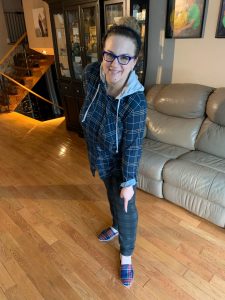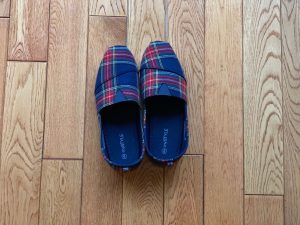 I don't even have words for these beauties! They're super comfortable and so inexpensive!
I also grabbed a super cute plaid purse!! I've gotten so many compliments about it:
I love how big and roomy it is too!!! So much space to hold everything!!
I always find amazing (and trendy) fashion from GT. Over the years, I've had so many fellow mamas comment about my clothing from GT!! The best part is seeing their comments/watching their faces when I tell them how little I spent!!!
I'm so glad to be able to share it with y'all!
So this fall and winter know that Giant Tiger has you covered for all your plaid fashion needs at unbeatable pricing and so much more!!
Bonus: if you sign up for the GT email, you get a $5 coupon!!! Woohoo!!!
Happy Shopping and stay safe!!
XO
SZ
Disclaimer: Compensation and clothing was provided for this review. All comments, opinions, videos and photos are strictly mine. Note: clothing prices seen above may change and are only valid at the date/time of this posting.