Hi MOMS,
Here's the thing: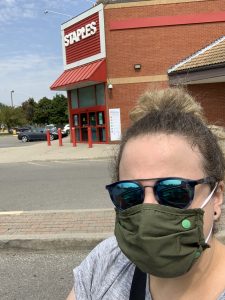 `
We're all on edge about how this school year will go. I know it's been a tough-go for me and my family as well. Wearing masks and sanitizing all day every day is our new normal. What I do know is Staples Canada has always been my go-to spot for back to school shopping even as we navigate the changes to our school year.
Whether you shop in-store or online, you'll find amazing deals! Do you love shopping online exclusively? Staples.ca is the place to be with fast and free delivery. I'm not the biggest online shopper (at least that's the lie I tell Kevin ;)) but I love finding amazing deals and Staples.ca doesn't disappoint, check out their extensive deals HERE!
When you arrive at your local Staples Canada store, you'll be met by this, their promise to you:
I trust Staples Canada for all my back-to-school essentials because they:
A: Care about their customers. This seems like a simple concept, yet so many other businesses fail to put their customers first. For example, at Staples Canada, they emphasize the important role that our teachers/schools have by creating a program called Staples School Tools which allows teachers to create an approved list of school supplies that their students will use in the coming year.
I'm actually obsessed with this program and find it saves SO MUCH TIME for us parents then running around the whole store guessing what our kids would need. Parents also SAVE up to 10% off with this program, woohoo!! See how simple this process is here:
As you can see above, not only is it easy to find the EXACT supplies your teacher is asking for, but you can feel good about your purchases since Staples Canada will donate 3% of every order to your school!! Now that's an initiative I feel good about getting behind!!
The other major reason why I always shop at Staples Canada?
B: They carry the widest assortment of products for all grades and ages, see here:
You'll definitely want to check this out!
↓↓↓
The perfect at home study set up
Buy this awesome armless chair HERE!
Found this super cute joystick calculator, the kids will be pumped when they pull this out of their bags!! Purchase them HERE!!
I think one of the most important things when shopping for back to school items is to have plenty of selection. It makes the experience easy and most importantly, stress free. Take a look at the selection of backpacks (for great prices, by the way!) at my local Staples Canada store!
↓↓↓
Another look for your viewing pleasure, find them all HERE!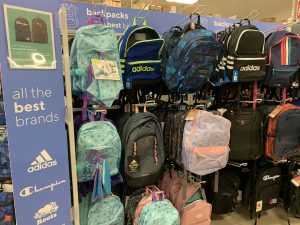 I can't stop gushing about the AMAZING deals they currently have in-store and online!
Ruled 150-sheet refill paper for only 35¢!! Such a DEAL!! Find it online HERE!
I picked up three of these for my kids so that when we do online learning, it'll be a breeze!! Find them HERE!
My favourite aisle at Staples Canada is the writing accessories!!! I've always been obsessed with pens and markers and this trip brought back my love for school! Heck, I finished my doctorate, so if that doesn't tell you I love school, I don't know what does! 😉 😉 
I picked some key items for the kids (and maybe even a little for myself! ;))
C R A Y O L A for the WIN!!!!
They have a gigantic collection of your favourite Crayola themed products! Look at these prices!!! How about the Ultra Clean washable markers for only $1.99!! Or the 24 coloured pencils for $1.99!! It's a $1.99 themed shop and I was loving it!!  The savings don't stop there, it was evident throughout the entire store.
Another HUGE score: Staples Canada has a 2 pack of white erasers for only 90¢!! These are the kind of savings I can get behind!!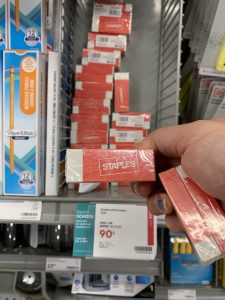 I also saw the most impressive line up of Crayola crayons!! Did you know that Staples Canada has a vast assortment of crayons that will satisfy every budding artist!
↓↓↓
Another view of this awesome collection! Grab a tin, fill it with 24 of your favourite colours and voila!!!
On a side note, I saw this note and thought it was quite fitting!
Staples IS so useful. So true!!
I don't think people think of Staples Canada as having water bottles and lunch containers in their collection as well, but they do! In my local store, I found 5 shelves filled with a wide variety of stainless steel bottles, lunch bags, food containers and much more! I've been a big fan of Contigo bottles and Sistema lunch containers for years now and I was so glad to find them at Staples Canada. I would rather spend my hard earned dollars at Staples Canada that has it all then having to go store to store.
Water bottles, lunch containers + more!
I didn't want to exclude the middle school kids in this blog, so here's some items that can get them back to school, ready in no time!
Check out Jlab Buddies Studio Kids Wireless Headphones (they come in Grey and Pink) and are only $39!
Check out this super cute Pep Rally Backpack with a French Pup design. At $24.98 it's priced well and is sturdy!! Check it out HERE!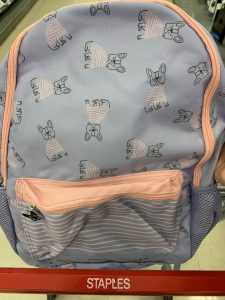 How cute is this Pep Rally Lunch Bag with a Lightning Bolt design?!! It's 16.98 and I may or may not have bought it for myself! 😉 Available for purchase HERE!
I also found on staples.ca the matching water bottle, for only $9.98!!! Yassssss!!! BUY it HERE!
No back to school shopping is complete WITHOUT picking up sanitizer and Staples Canada has you covered! These are the perfect size for the kids to take to school! Hopefully, they'll be diligent with their hand washing/sanitizing as they navigate the new school terrain!
BUY your Ecological hand sanitizer HERE!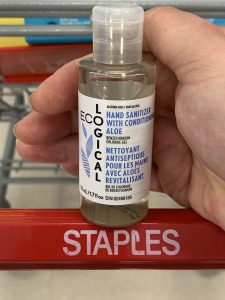 My haul was BIG and I saved a ton of money. For all the reasons above, this is why I believe Staples Canada has us parents, students and teachers covered. It's been my go-to shopping spot for decades (and that's the total truth!!)
Wishing you a happy (and stress-free) back to school shopping experience!
xo
SZ
Disclaimer: I received compensation and products for this review. All comments, opinions, videos and photos are strictly mine.