Hi Moms,
2022 has been a very difficult year for me and my family. At the start of the year, we found out my mom has advanced cancer and since, she's had to endure many radiation treatments. Cancer is hard, it doesn't discriminate and it really affects the whole family.
I had to redirect all my priorities and work and focus on being the primary caregiver for my mom. Lots and I mean LOTS of doctors appointments, treatments, medications, tears, loss of appetite, pain and her regularly feeling generally unwell. It's been really hard.
I wanted to start by saying this was our FIRST trip with Nonna post her cancer diagnosis at the beginning of this year. At first we weren't sure if it was even going to happen but we're so grateful to be able to share this experience with all of you. I know so many of you are also going through cancer or are taking care of a family member with cancer. Please know that you're not alone. We really are in this TOGETHER!
I wanted to show my mom that while she's still living with advanced cancer, she can still take a moment, a day, a night to truly unwind and forget (even for only 24 hours) that's she's living with cancer. That's why I'm so happy we got the opportunity to partner with my friends at Attractions Ontario to visit the absolutely beautiful Muskoka Bay Resort located within Gravenhurst, Ontario.
Surrounded by beautiful flowing trees and nature, you'll find Muskoka Bay Resort. A space for fun, rest and relaxation. Guests come to the resort for the delicious food, beautiful accommodations, the fabulous amenities including: the world class golf course, infinity swimming pool, tennis, spa and fitness studio.
We left with so much more.
Memories to last a lifetime and my mom has a renewed spirit to fight her cancer.
Here's our trip in its entirety – trust me, you'll want to bookmark this, add it to your bucket list and make sure to tag me when you go!!!
First step, pick up the star of the show, NONNA!!
The kids were so excited to be on this trip with their Nonna. You'll see way more of this later on…
We arrived and I have to say it felt like we had just entered our own private oasis.
Heading towards the check in we noticed townhomes and lots and I mean LOTS of lush greenery. Nonna loves when she's surrounded by nature. She immediately remarked that she felt as though "I can finally breathe." A huge smile came over us watching her inhale deeply. We headed towards the check in…
We then made our way to our unit and it was a 4 bedroom villa and super luxurious. We were overlooking the ravine and the accommodations were equal parts spacious, stylish and comfortable. With all that room, Nonna was able to rest and relax in style. Her unit had a king size bed with a large balcony! The villa itself had so many additional goodies including silverware, dishes and even a laundry room!! So perfect with kids!! I decided to take the basement unit all to myself! 😉 #momwin!!! As I said in my stories, you could stay here for a while with all the added extras in our unit. Soft plush towels, super comfortable bedding, it was clean, comfortable and luxurious.
I especially loved the outdoor spaces and we definitely took advantage of those during our overnight stay.
I'm not joking when I said that Nonna really did find her home. She didn't want to leave the resort once she saw our unit, the outdoor spaces and sat in her muskoka chair. It's the little things for her and you can see it in her face how truly happy and relaxed she was and the trip hadn't even begun!!!
When we were FINALLY able to get Nonna off the chair, we headed out to grab lunch from the Frosty Pint Pub.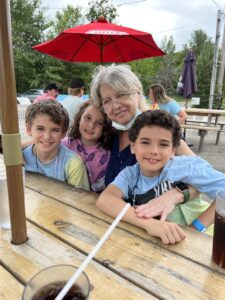 We got an assortment of dishes and our favs were the fish and chips and caesar salad with chicken and shrimp: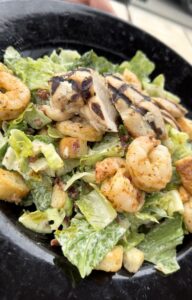 The food was pretty good, the service was a tad slow – there were so many people in and out of the restaurant and I don't think they had enough staff on duty. Otherwise, it was a great chance for us to try some local eats.
We were sooooooo excited to get back to Muskoka Bay Resort that we headed straight for the kids zone. I was introduced to Matthew who helped the kids navigate the area and was super awesome. I love recognizing great service and he was an absolute star for us!
He made sure to play with all the kids and helped where it was needed! Here's some of the fun activities the kids played with:
They had a table set up with arts and crafts and in the  same area, they had darts and a super intense game of connect four between Benny and Zoë:
They also made slime and painted pictures. They had a vast assortment of paints (acrylic ++) crayons, markers, glue, stickers and so much more to design the perfect picture. Your kids won't be bored here!!! 🙂
If Zöe can do it, you know I can. Scratch that, I attempted to paint and this is how it turned out. Please don't judge me!! 😉
The boys challenged each other to a bean bag toss.
You know how Kevin is, he got into the action too!! Anytime there's a fun activity, you'll always find Kevin inserting himself in it. I have to tell him multiple times, that's for the kids! 😉
Nonna loved watching the kids play in the kids zone. I was watching her and she had a huge smile on her face the entire time. She truly is an amazing grandmother and kept encouraging the kids to do their absolute best all the while having fun.
I went over to her, gave her a big hug and told her I loved her. I honestly don't know how much longer we will have to celebrate these moments so we're truly living moment by moment and enjoying the little things.
After the kids zone, we headed to the pool!!! Wooohooo, this was so much fun!!
They have a kids pool and their infinity pool that was spectacular. The kids pool temp was nice and warm and my crew played and had so much fun in there. Benny is always the first kid to jump in the pool. I tell ya, he loves the feel of the water on his skin and could play for hours. He loved how the water felt "slinky on his skin." 😉
The kids were playing Marco Polo and splashing around. I caught this awesome interaction between the boys in slow motion!!
I'm not kidding when I say the kids had the best time in the pool. Check out this to see more of our three musketeers! 🙂
Nonna was relaxing on the chair and Kevin joined her.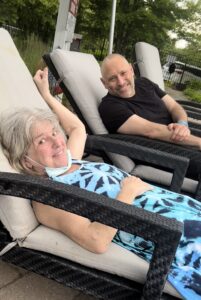 It was a really sweet moment and made me smile. Listen to Nonna's own words below:
We also had a really great time in the infinity pool.
The adults got in some much needed US time swimming. It was so awesome!!
After swimming, we went back to our villa to get changed because it was time for dinner and let me tell you, we worked up an appetite!!!
I asked Nonna what she thought of our stay so far at Muskoka Bay Resort and have a listen to what she said (she always tells it like it is!):
I have to say the grounds are so well kept. Gorgeous flowers line the walkways and it really makes you feel like you're so special. Here we are:
The dining room was nicely decorated and super clean, we loved it. Also catch those outdoor views too! Absolutely breathtaking!!
Nonna loves playing with her grandkids at all times and dinner is no exception. How cute is this:
I chose a non-alcoholic frozen peach drink and it was amazing!! When I shared it with my community on IG, I got a lot of wow, that looks yummmmm! It really was so refreshing. I *tried* to recreate this at home and failed miserably. 😉
We started off with an assortment of appetizers and I loved mine so much and wouldn't share it with Kevin (even though he begged me! ;))
Do you see that beautiful texture and colour? The taste was out of this world!!!!!! Definitely 5+ in my books!
We then tried their chicken caesar and this is how you do this salad. Fresh big chunks of chicken with crisp romaine make this dish a real winner!
Kevin and Nonna shared the shrimp and noodle dish and they both really enjoyed the flavour combinations.
For the kids, they had a great assortment of dishes and my crew chose the chicken quesadilla's.
The chicken and cheese combo with the crispy tortilla was a fav among my fam. The kids actually asked for it again the next day (when we got home for dinner! ;))
I need to highlight my dish specifically because it was out of this world. Flavourful and seasoned so well. Pay extra attention to the juiciness of the meat, yummmmmmm!!
For dessert, we got a combination of ice cream, chocolate mousse and this amazing caramel cheesecake that was beyond!!!! Our fav dessert we had at the resort! It was creamy, smooth and we also loved the presentation. Those edible flowers were beautiful!!!
I also caught the cutest moment between Nonna and Zoë. I'll remember this moment forever.
Happy kids post meal!!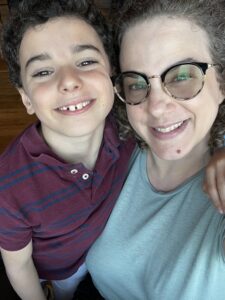 After dinner we had our own private fire pit to roast marshmallows and make s'mores! We didn't have to travel far for the pit, it was literally just outside the door of the restaurant. You can book this fun activity as well when you stay at the resort!!
Check out how happy Nonna is!!
The sun was setting and it was the most beautiful view. Kevin and I had to get in for a picture as well!
We went back home and settled in for movie night!! The kids got in their cozy pyjamas and we all called it a night. We had a wonderful sleep that Nonna said, she hasn't slept that well since before her cancer diagnosis. This is a HUGE win!!
In the morning we went to grab some breakfast and a quick trip to the playground (attached to the kiddie pool) before we had to venture back home.
Some of the breakfast highlights included eggs benedict, chocolate chip pancakes and their yogurt parfait – which was amazing. The granola, the yogurt and fruit, YUMMMMMMMM!!!
Here's what Nonna thought of all the yummy food we ate during our entire experience:
The kids had so much energy after breakfast that we took them to the playground. They pretended they were captains of the ship and Nonna got in on the action too! It was the cutest!!!
As we prepared to leave the resort, we all waved for a last time at our home away from the home (at least for the last 24 hours ;-)). Nonna felt the goodbye the hardest:
This was a fabulous mini vacay and we really did make amazing memories. I find Nonna still reminiscing about our experience. Thanks again to our friends at Attractions Ontario and Muskoka Bay Resort for making this trip happen.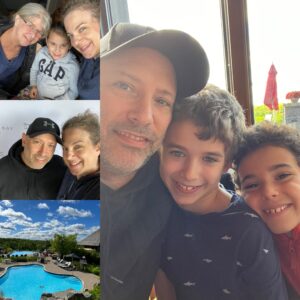 Don't delay, book your Muskoka Bay Resort vacation today!!! We really had a fantastic experience. You can feel the magic too and use the Ontario Staycation Tax Credit to book till the end of 2022!!!
xo
SZ
Disclaimer: Compensation and the experience was provided for this review. All comments, opinions, videos and photos are strictly mine.